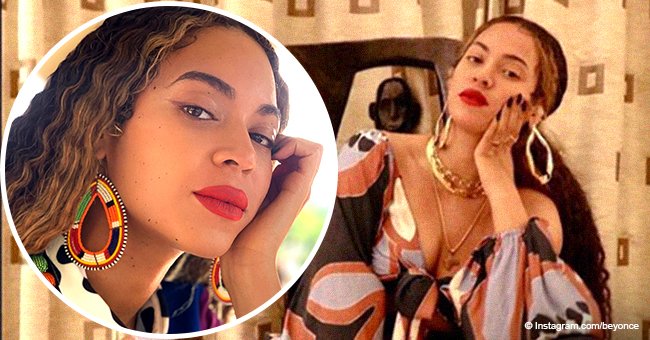 Beyoncé shares pics from trip to South Africa, looking stunning in creations by African designers

Beyoncé took to Instagram to share some photos during her trip to South Africa rocking the clothes created by African designers.
The first image of the slideshow was a close-up of Beyoncé, who was wearing colorful earrings and necklace. The highlight of that photo was her makeup, which was on point.
For the rest of the pics, the artist posed in different outfits, including a green and blue top with plaid shorts; a black and golden ensemble; and a black and white two-piece suit.
WEARING AFRICAN DESIGNS
One of the images portrayed Beyoncé with a beautiful and colorful outfit walking next to Jay-Z, who was wearing black pants, green, white, and red jacket, orange cap, and black sunglasses.
For the caption, Beyoncé thanked the "talented African designers" for making her feel "fresh" during her time in South Africa, "Y'all go so hard [sic]," added the artist. Soon after uploading that slideshow, her followers took to the comment section to praise all her looks.
"The way you reinvented your image, your songs and your point of views keeps blowing my mind," wrote one user.
"You look like you are 20 years old!" admitted a second follower.
"African queen looking beautiful," pointed out another one.
Beyoncé and Jay-Z were in South Africa to take part in the 2018 Global Festival in South Africa. Their participation helped raise more than $7 billion in their effort to eradicate extreme poverty. The initiative wanted to raise $1 billion, but the Carters' participation made everything better.
"Thank you to the talented African designers who kept me feeling fresh. Y'all go so hard."
CALLING BLUE IVY "UGLY"
Recently, the family made headlines again after Funky Dineva, a comedian, said that Blue Ivy, Beyoncé and Jay-Z's daughter, was "ugly" during his appearance on TS Madison's show called "The Queen Court."
Soon after that, the comedian started facing a log of backlash from the fans and followers of one of the most powerful and popular families in the world. Realizing what he did, Funky filmed a video to address the situation and even apologized to Jay-Z, Beyoncé, and Blue Ivy for what he said.
APOLOGIZING
Saying how he said those comments to make people laugh, the comedian soon realized that the words he chose were "gross" and that he was a grown adult taking shots at a "defenseless" child.
"I'm upset with myself. I've said some off the wall things before in the name of comedy, and I've stood by them all and defended them all, and told the general public, you know, 'Forget you. You're just gonna have to be mad.' But this is one of those things that I'm not proud of. I can't stand in this one [sic]," said Funky.
Please fill in your e-mail so we can share with you our top stories!