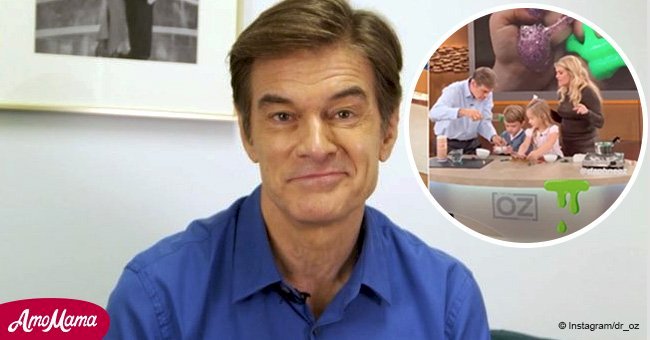 Dr. Oz's grandchildren steal the spotlight during his daytime talk show

Making a guest appearance on 'The Dr. Oz Show' recently was non-other than Dr. Mehmet Oz's grandchildren; John Jr. and Philomena and the pictures are adorable!
It was a fun day on set when Dr. had his favorite guests ever on the show, his grandchildren, and shared three pictures of the cute toddlers on Instagram and captioned it:
"My all-time favorite guests are on the show today."
The first picture shows Philomena and John Jr. sharing a makeup chair while getting ready to go on stage with their cardiac surgeon, wellness guru grandfather.
The second snapshot shows the two siblings waiting outside the door to the stage, as Dr. Oz captioned the picture, "John is just a little excited!"
Read more on our Twitter account @amomama_usa.
4-year-old Philomena and 3-year-old John Jr. were also joined on stage by their mum, Daphne, who helped the kids get down to the critical business of slime making and having fun.
During an interview in February 2017, Dr. Oz said he adores being a grandfather and love to dote on them as he said:
"They know they can get anything they want from me! I spoil them with toys. We bought Philo an ice cream cart. There's no ice cream in it, but she pretends to sell it to us. She's very commercial!"
Mum Daphne shared that her father, Dr. Oz secretly likes it when she has to leave town for a business trip, as she gushed:
"The kids are obsessed with my parents! They just have the best time together."
Dr. is blessed with three grandchildren in total, but little Domenica Celine is a bit young to join the rest on stage. 32-year-old Daphne and husband, John Jovanovic welcomed her to the rest of the family last December.
Being very in tune with a more natural approach to medicine, Dr. Oz is an avid practitioner of transcendental meditation, which facilitates harmony by detaching from anxiety.
The surgeon is supportive of faith healing and homeopathy but promotes healthier living and medical screening to his followers and audience.
While his natural healing beliefs are evident, he is still backed by many years of solid medical experience as a surgeon.
Having attended Harvard during his Undergrad, while going to the University of Pennsylvania for his MBA and MD, and years of practicing medicine after that, he likes to keep a balance between what we can do to live better so we would need doctors less, and when medical assistance is vital.
Not only does he try to give the best advice possible but he also works hard at improving the health of those with no option but to have invasive surgery.
A device that Dr. Oz created two decades ago recently got tested at Columbia University. It eliminates the need for open heart surgery in order to replace a faulty mitral valve.
The device is designed to gain access to the heart through the groin in order to repair a leaky heart condition. It is a lot safer than having your ribs cracked open so you bare heart can be worked on.
Please fill in your e-mail so we can share with you our top stories!