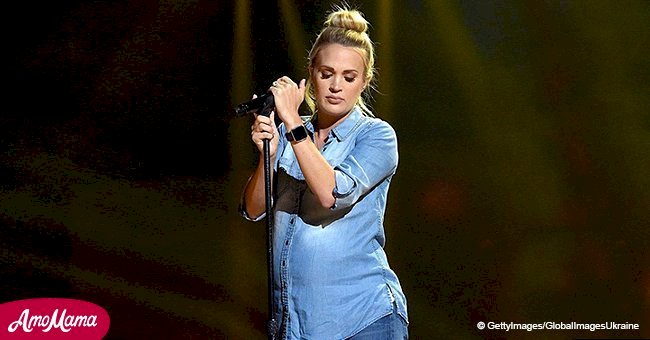 Carrie Underwood responds perfectly to her new song being slammed on Twitter
The country star decided to deliver a special lesson to her hater after receiving harsh criticism for her new musical release.
It's not easy to please every music lover out there and Carrie Underwood understands it well. She is used to receiving negative remarks directed toward her on social media but does not bother responding to them all.
However, a few days ago, Underwood could not stop herself from addressing a mean tweet that launched an attack on her new song.
The country icon took to Twitter and gracefully delivered a strong reply to the hater while also professing about a need for women to lift each other up.
Follow us on Twitter to learn more.
Underwood's frustration started with the Twitter user Jessica Smetana posting a tweet that talked about the new musical release from Underwood.
Smetana wrote in her tweet, "I love that NBC has been reading everyone's Collinsworth slide tweets because it means they've also been reading all the tweets about how much we hate the new Carrie Underwood song."
Responding to Smetana's attack, Underwood posted her own tweet and admitted that her music "isn't for everyone." The country star then mentioned that, regardless of this fact, she enjoys creating them and considers herself to be a "lucky lady."
The real punch she delivered to the mean tweet was through her last line that stated, "I also love women who build other women up… just saying."
Many fans of Underwood have posted their own replies to both the tweets, slamming the negativity and praising about the country star.
Twitter user Dia Gnilkina praised Underwood's spirit by pointing out, "And you hated it and she retweeted it. [Underwood] is awesome."
Meanwhile, Smetana herself was also quick to reply to Underwood's tweet. She clarified by stating that she loved Underwood and she did not intend to attack her as a person with the tweet.
"[Oh my god] wait no I love you I just miss the old song!" Smetana wrote and added a few crying emojis at the end of her tweet.
Underwood later tweeted another message of positivity calling everyone to be "nice" to each other and sending out her "love and cheer."
The country icon previously gave her fans a big surprise by accidentally slipping out the gender of the second baby she is expecting.
Underwood was co-hosting the 52nd Annual CMA Awards when she responded to Brad Paisley's request for a hint regarding the baby by revealing that her child may be "a Willie!"
She broke the news of her second pregnancy earlier this year in August with a video she posted on Instagram.
Please fill in your e-mail so we can share with you our top stories!