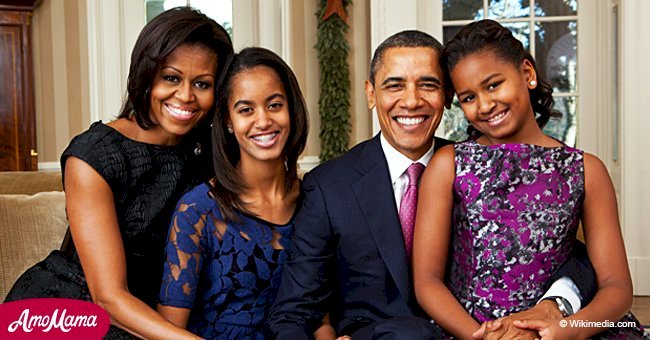 Michelle Obama jokes about the 'real' reason Barack wanted a second term
During an appearance on the "Tonight Show" on Tuesday night, Michelle Obama sat down with Jimmy Fallon to promote "Becoming," her memoir and shared the very personal reason why Barack wanted a second term as president.
If thoughts of possible reasons dwell towards matters like national security or creating a safer world, then the answer is no. Barack's true motivation to win reelection was so he could keep his daughters under Secret Service guard, and Michelle added:
"I've always said, as quiet as it's kept, the second term of the presidency was really fueled by Barack's desire to keep them with their agents into their teen years."
Recalling Barack's words Michelle continued:
"He was like, 'We've got to win because I don't want those girls walking around.' He wanted men with guns with them. He worked extra hard on those votes. He's like, 'Come on voters!'"
At the time their daughters, 14-year-old Malia, and 11-year-old Sasha were in their early teens when Barack got inaugurated for his second term in the White House.
Read more on our Twitter account @amomama_usa.
After the family left the White House, they decided to stay in Washington D.C. until after the now 17-year-old Sacha finished high school. While Malia, now 20, is a second year at Harvard University.
Jimmy and Michelle continued to talk about her memoir, and how she could write a whole book just about the White House.
This prompted Jimmy to pull out a picture of Barack and Michelle standing on top of the stairs to AirForce One; they were both smiling broadly, waving. It was their last flight as it was the day they left the White House.
Jimmy inquisitively asked what Michelle was thinking while flashing a broad smile and she almost interrupted him and said, "Bye Felicia!"
The audience roared with laughter while Jimmy almost fell off his chair, and Michelle sat with a massive grin on her face as Jimmy tried to compose himself.
Managing to go onto a more serious topic, Jimmy asked Michelle how she felt about the future of the country, whether she feels optimistic, to which Michelle replied:
"I am because, Jimmy, everywhere I go I get to see young people and we owe young people that optimism, that hope, because what's the alternative? There is a reason for hope. And I want everybody here to understand that, you know, there are dark days in so many of our journeys. But, you know, we have to, you know, push that arc toward hope."
Michelle Obama seems to be on a roll with her quips during interviews and speeches lately. Just over a week ago during her last stop of the book tour of her memoir, 'Becoming,' at the Little Caesars Arena in Detroit as she made the crowd roar with laughter with another one of her quips.
The sold-out audience of around 12,000 listened as Michelle elaborated on the scrutiny they faced as the first black family in the White House as Michelle said:
"We can't make mistakes. We can't get indicted."
The audience whistled and cheered after which Michelle added:
"There is a difference in standards. We are seeing that right now. We live with double standards all the time."
Please fill in your e-mail so we can share with you our top stories!