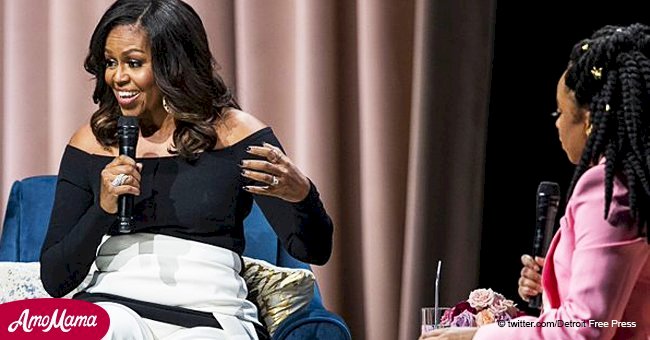 Michelle Obama makes crowd laugh after 'double standards' joke
On Tuesday, December 11, Michelle Obama made her last stop of the book tour of her memoir, 'Becoming,' at the Little Caesars Arena in Detroit as she made the crowd roar with laughter.
The sold-out audience of around 12,000 eagerly awaited hearing what the former first lady had to say. To the sound of Alicia Key's 'Girl on Fire' Michelle took to the stage to talk the anticipating crowd.
Michelle spoke of life growing up on the south side of Chicago as part of a hardworking family while being a black student at a majority white Ivy League college. Michelle also touched on how she met Barack and that she wasn't interested in dating him initially as she elaborated:
"It's really the fuller picture of who they are and how they treat women in the world. That's not something you learn the first date or two."
Read more on our Twitter account @amomama_usa.
Being the first black family in the White House, Michelle spoke about the scrutiny they faced as she quipped:
"We can't make mistakes. We can't get indicted."
The crowd exploded with whistling and cheered Michelle on as she continued:
"There is a difference in standards. We are seeing that right now. We live with double standards all the time."
Last month during a speech the current president said:
"Not only did I not get indicted, nobody in my administration got indicted."
Members of the audience were quick to pick up on Michelle's subtle stab at the current presidential administration and by the looks of it, wholeheartedly agreed.
Moving on to the purpose of her memoir, Michelle Obama said:
"People need to get to know themselves and each other. For me, I knew that, for folks to really understand me, they needed to know my whole story, and they needed to know the context of my life. ... I think that's true for all of us. ... We see the superficial. We see each other through stats and skin color, and race and party and that tell us nothing about each other ... which is why we feel so disconnected."
34-year-old Devin Massengale from Detroit attended the event and only have praise for the former first lady as she said:
"She is an African-American woman who stands for peace. She speaks for the people."
Husband, Barack Obama also know the art of being subtle while still making his point clear as he answered a question by presidential historian, Doris Kearns Goodwin asked the former president how he handled moments of frustration in the White House, to which he replied:
"For starters, by not having a Twitter account."
On Thursday Michelle showed her musical and giddy side during a visit to a children's hospital in Colorado when she broke out the dance moves.
Santa Claus protested against any dancing and insisted Mrs. Claus would prefer him not to. It was no problem for Michelle as she and a young audience member towards the front jammed out their moves.
Please fill in your e-mail so we can share with you our top stories!