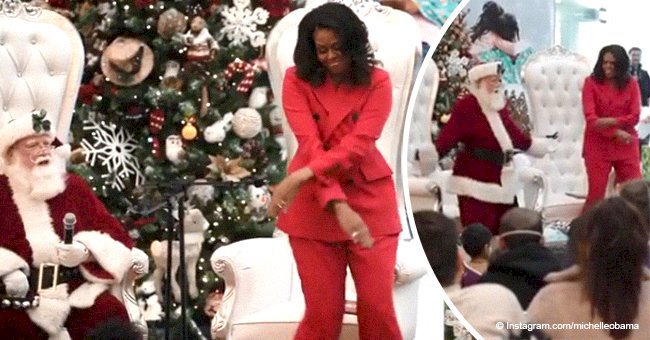 Michelle Obama steals the show, showing off epic dance moves with Santa Claus in new video
Michelle Obama stole the show during a recent appearance as she danced with Santa Claus. Her cool moves were caught on video, shown below.
The former first lady of the United States of America, Michelle Obama made a surprise appearance on Thursday at a children's hospital in Colorado. She spoke with children while standing next to Santa Claus.
The event also involved a story time. Obama read the holiday classic "The Night Before Christmas," to the listening crowd.
One child at the event reportedly asked Obama about her dancing skills. The adorable child then coached her on the "orange justice" dance from the popular "Fortnite" video game.
During her time in the White House, Obama had advocated for childhood fitness and wellness. Recently she has made surprise appearances at a school in Chicago and Detroit's Motown Museum as part of the tour for her bestselling book.
The former first lady's memoir, "Becoming," was released in November. It sold more than 725,000 copies on its first day in circulation.
During her book tour in Philadelphia, Obama surprised young women at a museum with an inspirational talk.
The trip was part of a ten-city tour. The evening involved a sit down with Phoebe Robinson at the Wells Fargo Center on November 29.
The fun-loving former First Lady snuck into the room where the girls from the nonprofit beGirl.world, were participating in a quick conversation.
"Don't let fear stop you flat on your feet. When you let fear choke you, you miss out on a lot." said Obama in her inspirational speech to the girls
Please fill in your e-mail so we can share with you our top stories!