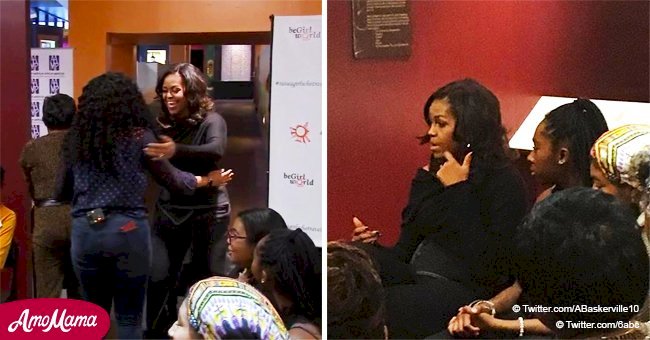 Michelle Obama honors high school girls with a private roundtable session
During her trip to Philadelphia, Michelle Obama surprised young woman from different nonprofit organizations at a museum with an inspirational talk.
Michelle came to Philadelphia in the promotion of her new memoir, 'Becoming' as part of a ten-city tour. The evening involved a sit down with Phoebe Robinson in front of a capacity crowd at the Wells Fargo Center on November 29.
The former First Lady arrived earlier in Philadelphia to surprise a dozen young woman from high schools in the area. She snuck into the room where the girls, who are all participants in the nonprofit beGirl.world, were for a quick conversation.
Reactions varied in degrees of shock and excitement and consequently led to tears and laughter, giggles included. One girl could not contain her excitement and jumped up to hug Michelle.
Read more on our Twitter account @amomama_usa.
The nonprofit beGirl.world, co-founded by the former White House social secretary, Deesha Dyer in 2014, encourages young woman of color to travel. After they all sat down and got comfortable, Michelle said:
"I was afraid to travel when I was your age. I was nervous about leaving my comfort zone. That's why I'm really excited about this organization."
Michelle went on to encourage the girls to follow their gut and not to give in to fear as she continued:
"Don't let fear stop you flat on your feet. When you let fear choke you, you miss out on a lot."
She reminded them that before her being the First Lady and before her law degree, she was one of them, that she too grew up in a harsh environment where success was not easy. To this, Michelle added:
"You can work beyond whatever limitations you have on your paper. You can impress people with who you are and what you do. You're always in control of that."
But this is not the first time the former First Lady surprised young girls with a private conversation. In September this year, she went to the O Magazine headquarters in New York to sit down with Oprah.
Oprah is renowned for her surprises. So the team at O Magazine concocted a surprise that made the world of difference to 30 young women.
On an early September morning 30 of the most aspiring students from three nonprofit groups in New York, Harlem Children's Zone, GrassROOTS SuperGirls Society, and Uncommon School Group came to Hearst towers for a day at headquarters. Or so they thought.
The plan involved video producer Bree Green explaining that cameras would be filming the day for a special election video. The girls got taken to the O Magazine conference room where they were asked to give opinions on a pre-recorded talk between Michelle Obama and Oprah after watching.
Little did the girls know that what they were watching was being filmed live just a few floors above them. As asked, the girls began to state their opinions regarding the interview, as one girl spoke Michelle snuck up behind her and surprised the group.
After the elated chaos died down Michelle sat down with them for a quick talk and advice before the surprise meeting ended.
The release of Michelle's memoir, 'Becoming' have exceeded expectations, as it sold an astonishing 1.4 million copies in a week after it's release on November 13.
According to Crown Publishing, her memoir is currently No. 1 adult nonfiction title in the United Kingdom, France, Spain, Germany, Denmark, Holland, and Finland. And the publisher has printed over 3 million copies based on North American demand.
In the memoir, Michelle opened up about personal issues including her problems with fertility, but she also talks about what life was like in the White House, and she does not hold back on her feelings towards the current administration, or rather, the current president.
However, she focuses her time on making a difference in the lives of the youth of today through her tireless efforts to empower especially the young woman of today.
Please fill in your e-mail so we can share with you our top stories!