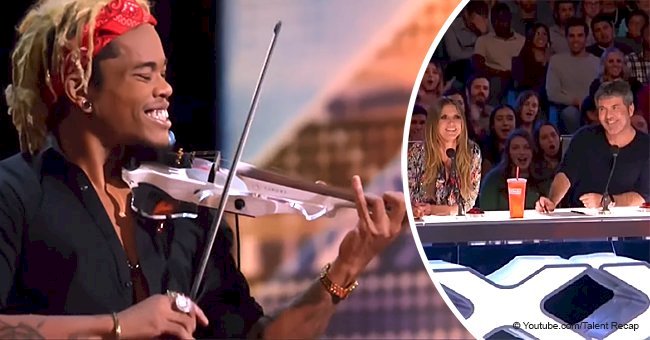 Violinist diagnosed with nerve disease went viral in 2018 after exceeding expectations in 'AGT'

Inspiring violinist diagnosed with a nerve disease makes it all the way to third place on "America's Got Talent" in 2018.
Brian King Joseph is a 27-year-old electric violinist. He's not just your regular performer; Joseph has had to battle a severe nerve disease that has progressed to the point of taking away the feeling of sensation in his hands and feet.
However, this proved to be no limitation for the talented one who played his way to the "America's Got Talent" live shows. His performance of Coldplay's "Something Just Like This" hugely impressed AGT judges Simon Cowell, Heidi Klum, Mel B, Howie Mendel, and Chris Hardwick.
WELL-DESERVED ACCOLADES
The judges had to give him a standing ovation after his act and thanked him for inspiring them with his persistence, passion, talent, and humble personality.
"I know that you're in so much pain, yet you're so happy, and you're fighting through. I love a fighter, and I love you, and you're a great performer. You're a big inspiration," Mel B said.
Hardwick was also full of praises for him as he raved:
"I have to say you are in true defiance of your condition and you do not let it define you. The pain that you must have been in, and you did it with a smile. I'm so happy to have been able to experience this moment with you."
Joseph went on to perform during the Live Finale of America's Got Talent Series 13. The violinist brought down the arena with an electrifying rendition of Kanye West's "Heartless."
All four judges stood up to applaud this inspiring talent. The crowd was also out of their chairs in resounding applause. Joseph didn't win the AGT show but made it all the way to third place coming behind winner Shin Lim and runners-up Zurcaroh. He also had a satisfying run on the show.
POSITIVE OUTLOOK
With a huge smile on his face, he said his farewell and thanked fans for their unwavering support.
"I just wanted to give a huge, big thank-you and shout-out to everyone who's been supporting me, who's been voting for me, who's been just with me on this journey," Joseph said to his "AGT" fans. "It means so, so, so much to have you guys commenting and tweeting and talking to me about me. So shout-out to everybody out there. You guys are the best. Love you."
Joseph added:
"It's crazy just to be on this entire journey this whole season. All those crazy moments and really just being able to find myself as a musician and as a performer and challenge myself to the limits of what I can do has been amazing for me. To be able to believe in myself and to say, 'Throw it at me. I can take whatever you've got.'"
Please fill in your e-mail so we can share with you our top stories!