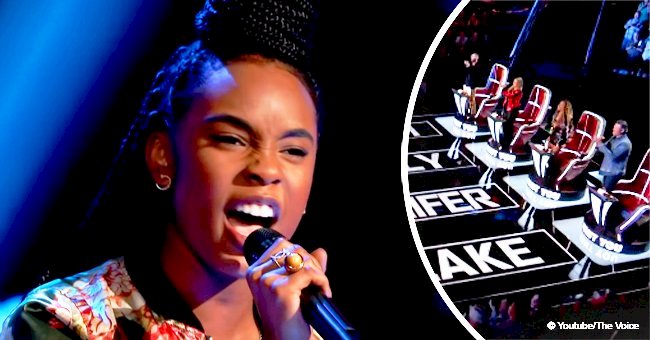 13-yr-old's performance on 'The Voice' made 4 coaches turn within seconds in viral video from 2018

Within only seconds of auditioning on "The Voice," the judges already thought she had a great shot at winning the show.
Last year's "The Voice" had barely started when fans got the good stuff as a talented teenager wowed the judges with her stellar performance of Adele's "Turning Tables."
Kennedy Holmes might not be your regular teenager but what we are sure of is her ability to command the attention of four music heavyweights.
Before coming to the end of her rendition, the four coaches turned for her, and by the time she touched the last note, they were on their feet in awe of her incredible skills. The audience also joined the coaches in the standing ovation.
"After 15 seconds, you really could become the absolute biggest thing to ever come from this show."
"I think she could win. I really do" was the statement Blake Shelton made to Jennifer Hudson. When it was time for introductions, the coaches were stunned to hear that she was only 13 years old. Kelly Clarkson could not hide her amazement and let out a scream.
"I think you're the best vocalist that has auditioned this year. Your voice already sounds so seasoned and accomplished. So much control, so much range," Shelton uttered to the delight of everyone.
He couldn't hide how impressed he was with her performance as he called her "the greatest artist of all time." He ended with telling her to choose him as her coach so she could teach him how to sing!
Jennifer Hudson turned out to be the most dramatic of all. The new coach was about addressing the singer when Holmes cut her and told her of her dream about singing with her (Hudson).
Hudson immediately got on her feet and said: "I'm ready." The duo gave an amazing duet of Hudson's "Dreamgirls" piece, "I Am Changing." Their performance met with thunderous applause from the audience and Clarkson couldn't get a grip of her emotions as she cried.
"After 15 seconds, you really could become the absolute biggest thing to ever come from this show," Adam Levine said to Holmes.
The talented teen would eventually pick Hudson as her coach and go on to impress the world with a breathtaking rendition of Whitney Houston's classic, "Greatest Love of All" at the show's Live Top 11 Performances.
So touching was her performance that a proud Hudson commented:
"I know mama Whitney is proud somewhere up there like you are a shining star in your own right and I love how you command the stage."
Please fill in your e-mail so we can share with you our top stories!