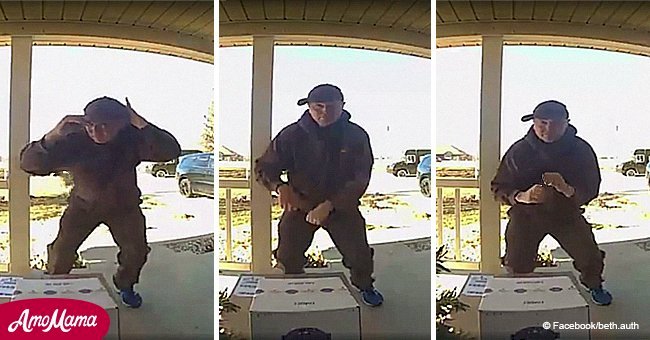 UPS driver's funky dance caught on surveillance camera

In a small town in Indiana, a UPS driver decided to have fun while delivering a package in a funny and unique way.
A couple got pleasantly surprised when they were not home when a UPS delivery man arrived. Bethany Auth caught footage of the driver with a doorbell camera as he delivered the packages in his unique way.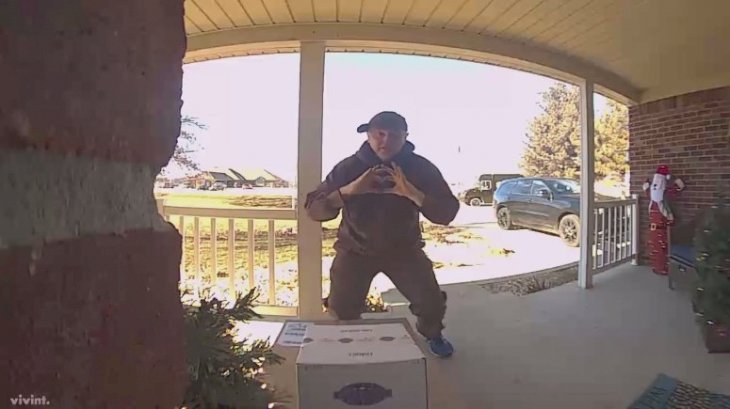 Source: Facebook/Bethany Auth
Sharing the joy, Bethany from Russiaville with only 1094 inhabitants, downloaded the clip and posted it to Facebook on Monday, December 17, with the
caption
:
"Your UPS driver likely doesn't have anything on mine. Hoosier movie star and all."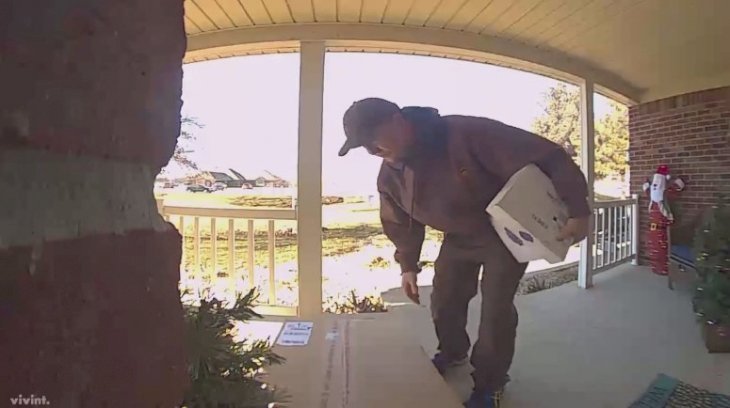 Source: Facebook/Bethany Auth
Read more on our Twitter account
@amomama_usa
.
The video shows the man placing the packages by the door before he takes a step back, readying himself. Next, the delivery driver turns his cap sideways, and it's game on. The man breaks out a few moves before dashing off to his vehicle.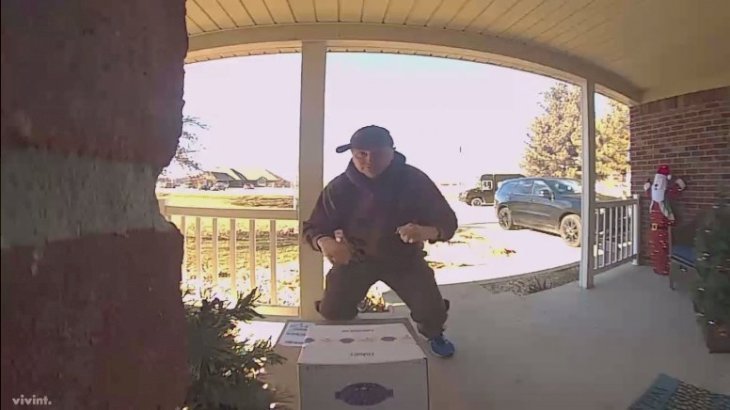 Source: Facebook/Bethany Auth
Afterward, Bethany
elaborated
:
"We laughed so much when watching it. My husband and I were out finishing Christmas shopping. My phone alerted me someone was at our door. I opened the notification to him dancing. I knew I had to share it. Brought a smile to our face during a stressful time of year. You can tell he loves his job and has fun doing it."
Since the video's posting, it's had over 26,000 views on Facebook. Perhaps a UPS delivery challenge could prove to be most entertaining.
In May, David Seale got caught on CCTV dancing, but for a whole other reason. He had the keys to the castle and was robbing it blind, as the saying goes. The dancing occurred when he exited the business with loot that he had stolen.
David then went back inside where he picked up another bag containing loot and danced some more seemingly in his own world as he carries out his crime at his own pace and unique way.
It was determined that he did have keys, but as to where David got them from is still a mystery.
The following video perfectly illustrates what is meant by the saying, "dance like nobody is watching." Taken at the Dance Factory preschool tap dance show this particular line of dancers thoroughly entertained the audience.
The camera has its focus on two little girls in particular. One is dancing like nobody is watching, and the one next to her is dancing like she wishes no one was watching.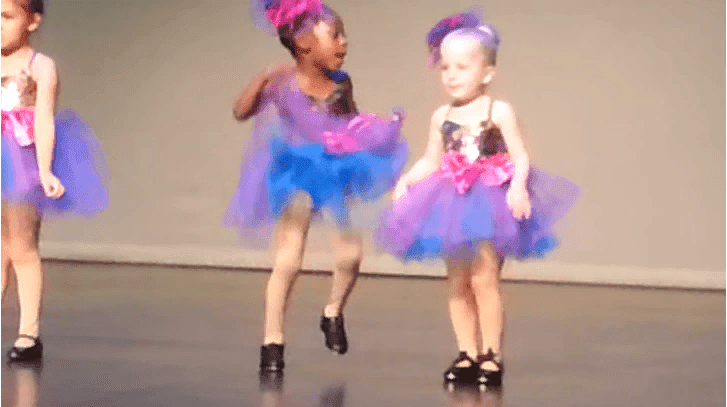 Source: YouTube/Randall Burns
Ditching the choreography the girl lives herself into the moment and follows her own moves, much to the delight of the audience. And is almost like the funniest part of it is that she seems completely unaware that anyone was even looking at her.
In contrast to the one girl with the flair for theatrics, the other girl hardly moved, and looked awkward when she did, while the other girl was very rhythmical and expressive.
From time to time you can hear the person recording unable to contain laughter, and everyone intently watches the passionate girl with her own moves.
Please fill in your e-mail so we can share with you our top stories!