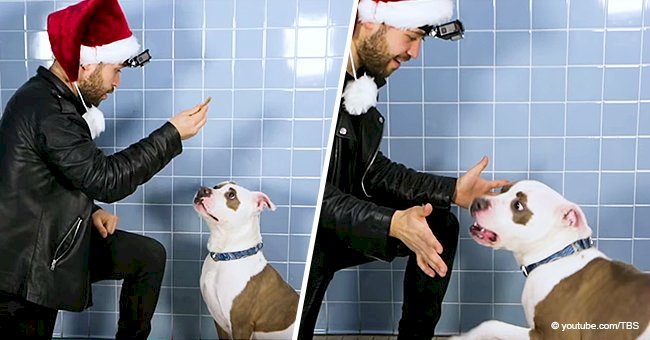 Magician plays a trick to cheer shelter dogs and they have the funniest reactions
Magician John Stessel went to Town of Hempstead Animal Shelter in New York to show some magic tricks to the dogs, getting the funniest reactions.
In an initiative that TBS and the animal shelter had to promote the adoption of the dogs, they put John and some of them, which were available for adoption at the time of the recording, in the same room.
The first dog was Ruckus, who followed the magician's commands to sit and stay still. When John was about to give him a treat, he "made it disappear" in front of the surprised dog.
WAIT… WHAT?
When Ruckus noticed that the treat was gone, he sniffed trying to find it again but quickly ran back to where he came from. Prince, the second dog, stayed in the room with John after he made the treat disappear and started playing with him.
The third dog was a puppy named Luna, who stayed still as if she didn't know what had happened, but later bit the pompom in John's Christmas hat and pulled it away. Cali had one of the funniest reactions as she was somehow scared about the mysterious disappearance.
GIVE ME MY TREAT, PLEASE!
She even started shyly barking as if she was asking for her beloved treat. Teragon also had a hilarious reaction as he began to roll on the floor as if John wanted him to do more tricks to give him the treat.
The magician kept doing the same with the rest of the dogs in the shelter who reacted in a similarly fun yet different way. One of them, Frankles, climbed his way to John and hugged him as if he didn't really care about the treat but about the company.
ADOPT ME!
It is not the first time that shelters create such initiatives to attract people to adopt dogs. Ginger, a Staffordshire bull terrier, became an internet sensation after a photo of her posing with a sign hanging on her neck asking people to adopt her hit Facebook.
In the image, the dog appeared sitting and looking directly at the camera with the sign that read, "I have been in the shelter for 1,456 days. Please adopt me." The message written in the caption was heartbreaking, too.
Ginger was a stray dog that was taken to the shelter in 2014 and had been waiting for someone to take her home for a long time. "Ginger would like to be the only princess," read the caption.
Please fill in your e-mail so we can share with you our top stories!