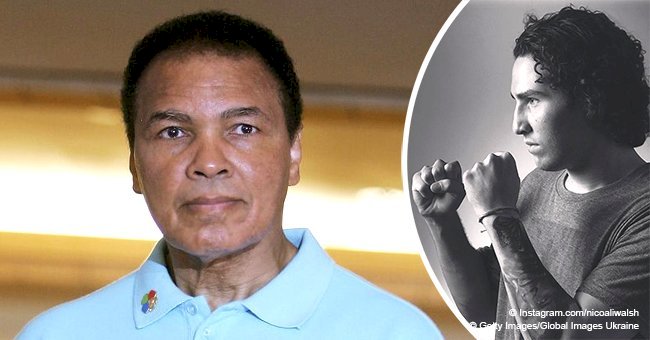 Muhammad Ali's grandson is making a name for himself as a boxer & looks nothing like his grandpa

When you're a boxer, and your last name says: "Ali," you know that people expect greatness from you. Here's Muhammad Ali's grandson who's also a boxer.
If Mohammed Ali were alive, he would have been proud of Nico Ali Walsh, his grandson who has chosen to carry on the legacy he established.
Nico is also aware of the weight his last name bears in the boxing league. He told Chicago Sun-Times:
"I know what my last name means to people because that is my family."
He is not oblivious of the greatness the family name bears and is set to continually rise with legendary hip hop singer Flavour Flav as his manager.
Nico is looking to infuse some aptitude and elegance in his fight and Flav is working hard as his hype man, proclaiming him as the next big thing in boxing; telling the world about his proficiency and skillfulness in boxing.
However, not only does Nico bear the Ali legacy in the ring, but also outside it with charitable works, teaming up with a non-profit organization, "Christmas Without Cancer," to help families battling with cancer.
By featuring as a fighter in the boxing program in Chicago, he serves the community, just as his grandfather did.
Nico's mother, Rashida Ali Walsh, is one of the biggest supporters of her son's career, is pleased to have him follow in her legendary father's footsteps. In an interview with FOX Sports, Rashida explained:
"Now that my dad is no longer with us, it is even more special that he is pursuing a career because my daddy is looking down on him as our angel. We are spiritual beings and I feel that if Nico feels that his grandfather wants him to follow in his footsteps and do good things with this career, I am not going to interfere with that."
Rashida thinks that seeing her son in the ring will help her and the rest of the family connect with her father.
Even though Nico looks more white than black because his dad, Bob Walsh, is Caucasian, the young man is leaning more towards his grandfather's legacy.
Nico also has a brother, Baggio Ali Walsh, who once trained in boxing but later realized his passion lay in football. Baggio also does some modeling on the side and has quite the impressive feature.
The great Muhammad Ali is surely blessed to have grandsons like Nico following in his footsteps and keeping his legacy alive.
Please fill in your e-mail so we can share with you our top stories!