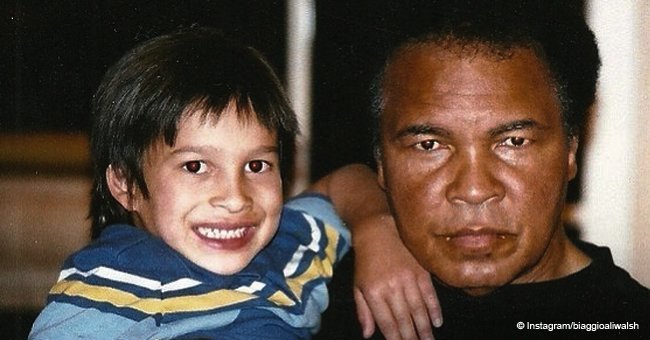 Muhammad Ali's half-Caucasian grandson is all grown-up and has his own successful career
Muhammad Ali may have left a great legacy in the world of boxing, but he also passed on his formidable genes to his grandson who appears destined to be a champion too.
His name alone may not ring a bell, but his grandfather's definitely will. Meet Baggio Walsh, a 16-year-old football star who's also moonlighting as a model. But what many will be surprised to know is that this handsome young man is also the grandson of famous boxing legend Muhammad Ali. He even carries Ali as his middle name and refers to him as Poppy
Just looking at Baggio's chiseled face, it's difficult to believe his genes carry those of the boxing champ. That's because he's bi-racial. His mother, Rasheda Ali married Bob Walsh making Baggio's features an interesting mix of Caucasian and African-American. And what a mix it is. Just take a long at Baggio's modeling portfolio to see he's quite an Adonis.
But while his looks are arresting enough, Baggio also boasts of athletic genes, though not of his grandfather's kind. He grew up training in boxing along with his brother Nico but soon realized his passion was for football. Thus, he began a football career as a running back for Bishop Gorman High School in Nevada and currently plays for University of California's Berkeley Bears.
While reigning in the football field, Baggio got lured into the modeling world for obvious reasons. An agent for Wilhelmina Models reached out to him in 2016 and soon, he was gracing photoshoots for At Large magazine and Vogue Italia.
Still the average freshman despite the demands of football and modeling, Baggio also has a social life. He posted photos from his last high school prom as well as his Halloween where he was aptly dressed as Superman.
Meanwhile, he opened up to Vogue about his dream of establishing a career in film. Describing himself as "hilarious, confident and charismatic," Baggio revealed he's currently taking up film and hopes to one day own a production company with his brother.
And that dream doesn't seem far-fetched considering the young man lives by his grandfather's mantra, "Don't quit. Suffer now and live the rest of your life as a Champion". He even has it tattooed on his bicep. It's just a matter of time before Baggio proves he is a champion just like his grandfather.
Please fill in your e-mail so we can share with you our top stories!