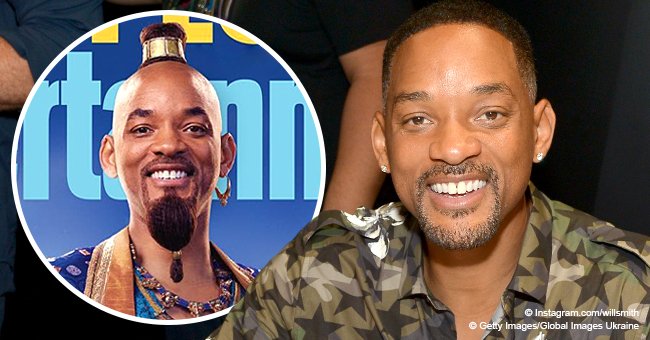 Will Smith transforms into a Genie in first look images of 'Aladdin' remake
Will Smith surprises fans with the first look of his character in the latest remake of Aladdin. The actor fashions a top knot and a goatee as the Genie.
Will Smith will be portraying the role of the "Genie" in the remake of the Disney classic "Aladdin" and a first glimpse of him in character has just been released.
FIRST LOOK AT SMITH'S GENIE
The actor shared the cover photo for Entertainment Weekly's First Look issue which features him and his co-stars Mena Massoud and Naomi Scott in their costumes.
Smith's Genie is garbed in a blue beaded jacket and sports a topknot, a goatee and a singular earing. He towers over Massoud and Scott from behind who look equally appealing in their costumes. Massoud's Aladdin is wearing a striped shirt with a red vest while Scott's Princess Jasmine fashions a turquoise beaded dress, and jewelry encrusted with turquoise stones with a matching tiara.
Smith captioned his photo with a "BAM!" before revealing details about his new role.
"First look at the Genie Princess Jasmine, and #Aladdin! Check Me Rockin' the Top Knot Ponytail Vibes in @entertainmentweekly (and yes, I'm gonna be BLUE! :-) This is how the Genie is in Human / Disguise Form. My character will be CGI most of the movie)."
Smith's comment about being blue was to address fans who freaked out that he wasn't blue in the photo. In the animated version, the Genie was blue.
SMITH'S VERSION OF THE GENIE
Smith will be reprising the role made famous by Robin Williams who voiced the Genie in the 1992 animated classic. On filling the late actor's shoes, Smith said it is pretty terrifying considering Williams "didn't leave a lot of meat on the bone with the character."
However, instead of competing with Williams' iconic take on the muscular Genie, Smith intends to take his character to "a different lane." Smith' Genie, according to a Disney character will be part Fresh Prince and part Hitch, alluding to Smith's roles in "Fresh Prince of Bel-Air and the film "Hitch."
The film's director, Guy Ritchie, whose previous films portray him as an unlikely Disney director said of his vision of the Genie,
"I wanted a muscular 1970s dad," who's "big enough to feel like a force — not so muscular that he looked like he was counting his calories, but formidable enough to look like you knew when he was in the room."
He also explains that Smith's Genie will be more self-aware.
"I like the fact that our Genie has an ego and is a little bit vain and he cares about how he's presented because he's been doing this for a very long time."
ON TAKING ON A CHALLENGE
Will's new role is the perfect vehicle to mark his 50th year. The actor has been challenging himself lately after turning the big 5-0 in September. One of the things he took on was a bungee jump challenge. The actor responded to a dare by a YouTube channel back in March to bungee-jump out of a helicopter. To make it even more visually appealing, Smith jumped into the Grand Canyon. Smith revealed he used to be controlled by his fears and overcoming this challenge helps him conquer that.
Now it appears smith is conquering another fear with his role in Aladdin. The fear of failing in comparison to Williams' version. Knowing this daredevil, he'll most likely conquer this one too. We'll know in May 2019 when the film hits theaters.
Please fill in your e-mail so we can share with you our top stories!