Breathtaking video of Will Smith jumping out of a helicopter in honor of his 50th birthday
Will Smith shared the nerve-wracking experience live on YouTube for the world to see. Then he created a video that is still the number one trending video on the site as of today.
To celebrate his 50th birthday, the actor decided to take on a challenge suggested to him by the YouTube channel "Yes Theory" back in March. The idea was to bungee jump out of a helicopter. 
Smith, known recently for his extraordinary antics and motivational videos that he posts to social media, decided to take the suggestion a step further. The clip is found below.
Follow us on Twitter for more @amomama_usa.
Watch Will Smith Bungee Jump Out of Helicopter Into Grand Canyon for 50th Birthday https://t.co/ulRiCxhUFy

— People (@people) September 26, 2018
He invited his former "Fresh Prince of Bel-Air" co-star, Alfonso Ribeiro, to host his jump into none other than the Grand Canyon. 
On Wednesday, he set up the live-stream on his YouTube channel. Smith rode in a camper with his mother Caroline Bright along with his wife Jada Pinkett Smith and three of his kids: Trey, 25, Jaden, 20, and Willow, 17. 
ET Online reported that Smith said his father once drove him and his siblings cross country and he felt it fit to "punish" his children the same way.
The daring act would also benefit a charity, "Global Citizen," which aims to reduce poverty and hunger worldwide.
Before it was time, the "Legend" actor captioned an Instagram post that featured his family, "My Squad holding me down for my big 5-0." 
In a pre-jump voiceover, The "Men in Black" star explained how he was doing the act as part of his way of conquering fear: 
"I've had a whole lifetime of feeling squashed and squelched and controlled by fear. There's nothing worse than walking around scared." 
His kids also expressed their feeling about the jump beforehand. Jaden said that his dad's biggest fear is "having a fear." And a nervous Willow stated that she wants her father to simply do what makes him happy.
Will trudged ahead, but he had some second thoughts: 
"I say a lot of things I don't mean. As I approached the Canyon, there are things that I'm realizing I probably should've thought about before." 
Nonetheless, he got medical clearance and finally took the leap. 
"This is gorgeous! This is gorgeous! Will is heard screaming in the video. 
When he was safely off the line, he described the experience: 
"Nothing will ever be scarier than that." He added: "It goes from complete absolute terror to the most magnificent bliss you've ever felt in your life... The whole Grand Canyon is mine." 
He finished off by saying: 
"You have to commit. Life is hard, you might get hurt, your heart might get broken, you might lose your job, but you've still got to commit."
Source: YouTube/ Will Smith
This wasn't the first bungee jump for the "I, Robot" star, however. In 2017, he took the plunge over Victoria Falls in Zimbabwe, Africa. 
Smith is in the ranks of other celebrities who have gone above and beyond to face fear head-on. 
Soccer star David Beckham also bungee jumped in New Zealand back in 2008. That same year, actor Bill Murray went skydiving with the U.S Army parachute team in Chicago.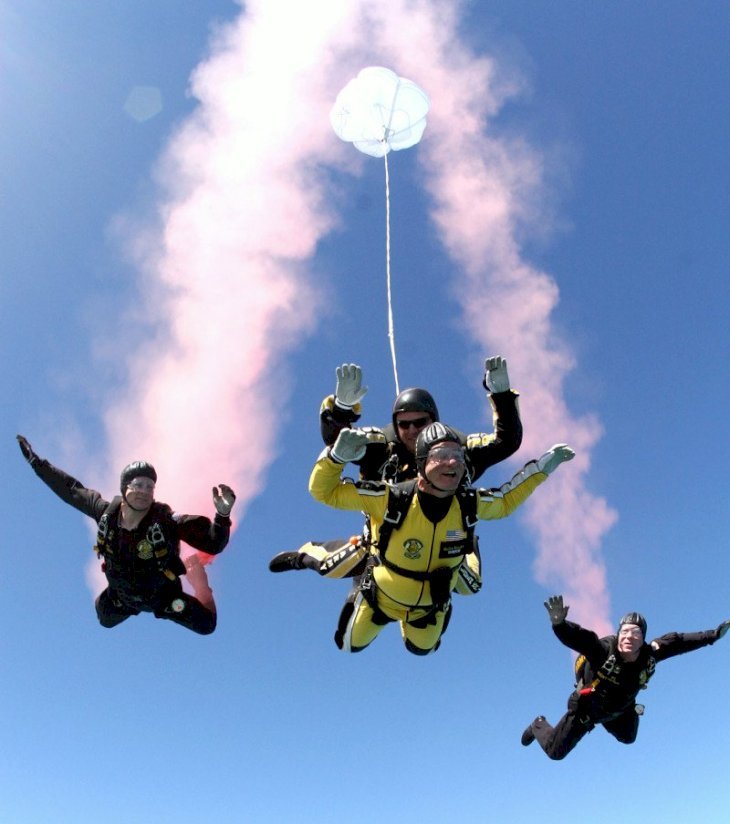 Back in August 2018, the A-lister did a much less terrifying challenge when he went undercover at a Boots store to promote his son's eco-friendly bottled water. 
Will Smith spends day working in Boots and you know the meal deal will be fresh.https://t.co/a8zJ5SDwjq pic.twitter.com/XgB05YukDT

— LADbible (@ladbible) August 21, 2018
Smith was more than willing to mingle with shocked fans who he came up to him at the UK chain. 
Fully dressed in uniform, he was also proud of the product he handed to them which would help the environment.