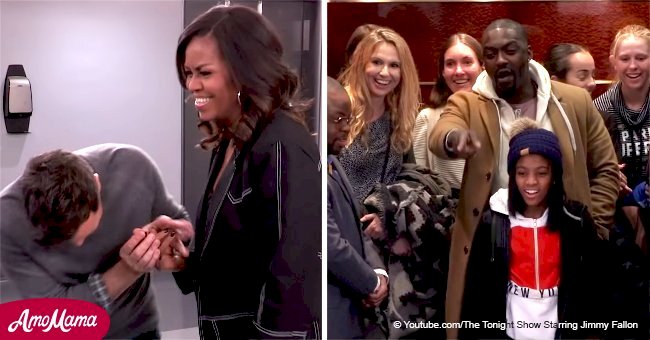 Michelle Obama prepares to surprise unsuspecting people in an elevator
The former first lady and the beloved talk show host surprised unsuspecting fans by saying them a hello outside their elevator.
During December 18 episode of the "Tonight Show with Jimmy Fallon," Michelle Obama made her appearance and joined Fallon for a special "Elevator Surprise" segment.
As a part of their special surprise, several groups of people were told that they were going on a tour of Rockefeller Plaza while their visit to New York. However, it was planned to be a tour of a different kind.
During their elevator ride up the plaza, the elevator would stop unexpectedly and the door would open. Outside, Fallon and Obama would be waiting to say them hello, often also entertaining them with different comedic bits.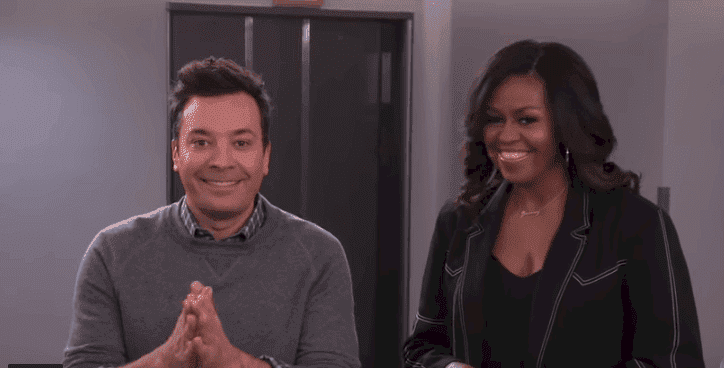 Source: YouTube/ The Tonight Show Starring Jimmy Fallon
Follow us on Twitter to learn more.
When the elevator stopped and the doors opened for the first group of people "touring" 30 Rock, they found Fallon and Obama sitting on a couch, casually reading magazines while chatting.
The people were inside the elevator could help but scream when they spotted the two celebrity figures. Sadly, the elevator didn't stop too long for them.
When the elevator door opened for the second group of people, Fallon stood right outside the elevator with a blanket in his hands.
"Ever seen a magic trick?" he asked the fans. "Check this out. Watch this."
He spread the blanket and when he removed them Obama appeared out of nowhere, sending the fans screaming in delight.
For the third group of people, Fallon and Obama were seated on a piano enjoying a Christmas song. Another time, Fallon and another crew member from the show stood before the fans holding a huge gift box, from which Obama sprang out for her fans.
About a week ago, Obama also took time to surprise a special group of families at Children's Hospital Colorado in Denver with her visit.
During her visit, Obama also answered some questions and read the holiday classic, "The Night Before Christmas," with Santa Claus.
Obama has shown every now and then that she isn't shy of showing her fun side. Previously, she impressed everyone by showing off her amazing dance move during an event at Temple University.
Please fill in your e-mail so we can share with you our top stories!