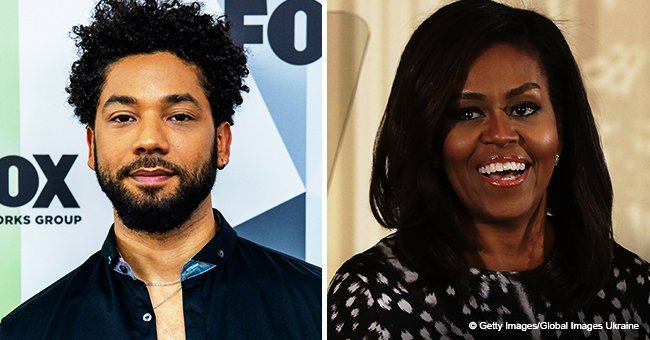 Michelle Obama shows off fiery dance moves in a video with Jussie Smollett
Former first lady Michelle Obama can dance! In a never-seen-before clip, Obama shows off her skills as she dances to one of Jussie Smollett's songs and she sure does look like a bag of money! Take a look below.
'Empire' star, Jussie Smollett can sing and Michelle Obama can dance! So when Jussie got on stage at Temple University, she called the former first lady to the stage to show off her dancing skills. Being a sport, Obama got on the stage and moved her curvy body in a sexy way for a few seconds, but it was enough to get the crowd wild.
Obama looked as chic as always in a pair of skinny jeans and a jacket. Her effortless dancing made her 54-years unbelievable! She and Jussie were at the institution for the annual College Signing Day that was created to honor high school kids heading off to college
The Sum of my Music singer performed in front of 8,000 kids who seemed to have loads of fun and pleasantly surprised at FLOTUS' down to earth nature.
Beyond the fun and dancing, Obama took to the stage to dish out some wisdom.
"There are all these people out there telling you what you can't do. I am so proud of you all. You did just what I did. You ignored the haters. There were a lot of people who told us that we weren't supposed to be in the White House, that we couldn't handle the pressure, that we weren't ready. So I'm telling you, they will doubt you today and they will doubt you for the rest of your life…I'm not one of the doubters. I know that you have what it takes to succeed."
Other notable celebrities in the event included Nick Cannon – the event's M.C, Bradley Cooper, Kelly Rowland, Questlove, Robert DeNiro, Rebel Wilson, Zendaya, and Karlie Kloss.
Do you want to know the secret of her long-lasting happy marriage with Barack Obama? Watch this video about celebs who managed to find their true love!
Please fill in your e-mail so we can share with you our top stories!