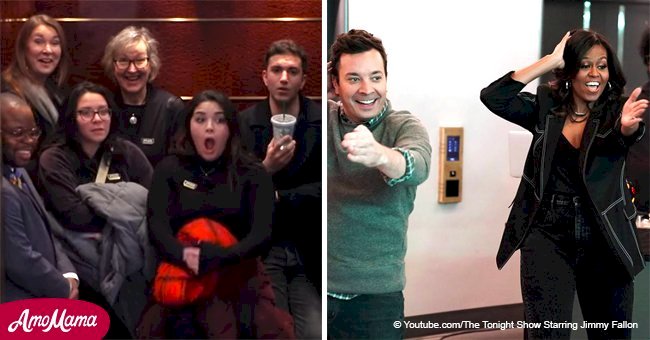 Michelle Obama and Jimmy Fallon surprise people in elevator and get the perfect reactions

Former First Lady, Michelle Obama, along with Jimmy Fallon, surprised tourists in an elevator at the New York's 30 Rockefeller Center. The video below shows the tourists' reactions which were nothing short of priceless.
It is not uncommon for elevators to stop on the wrong floor; however, it is quite rare for such to open up to a totally unexpected duo - Jimmy Fallon and a former FLOTUS. This is exactly what happened to tourists at 30 Rock on Tuesday's edition of The Tonight's Show.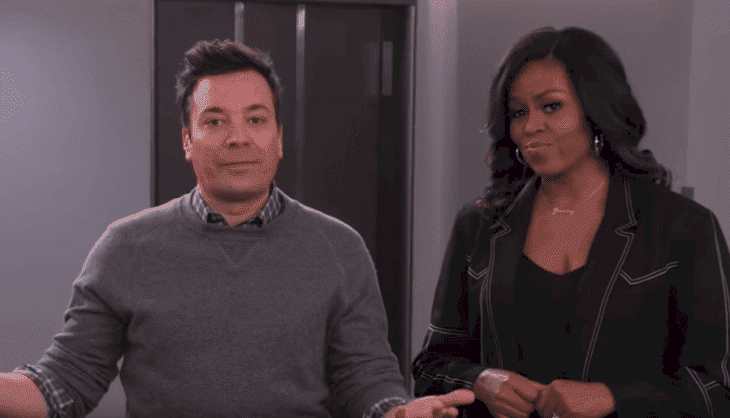 YouTube/ The Tonight Show Starring Jimmy Fallon
Follow us on our Twitter account @amomama_usa to learn more.
Jimmy and Michelle had the elevators stop on the wrong floor, where they would be waiting. Each time the elevators opened up, the duo was seen doing different things.
One time, the doors opened up to both of them reading the other's book - Michelle was reading "Everything Is Mama" while Jimmy was reading "Becoming."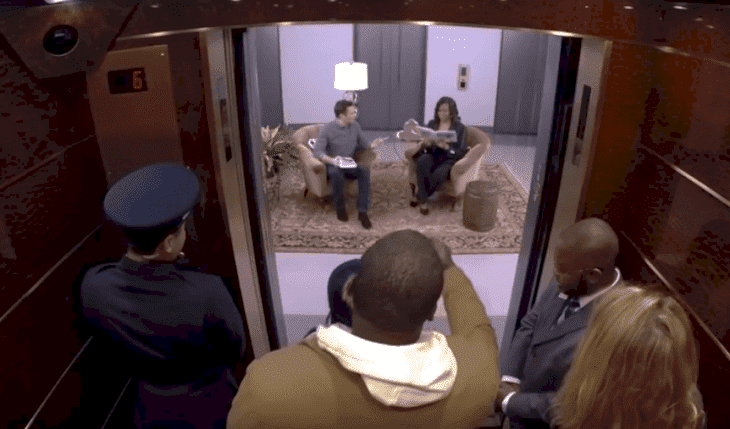 YouTube/The Tonight Show Starring Jimmy Fallon
Another time, the tourists were surprised to see Jimmy and the former FLOTUS singing beside a piano.
On one occasion, some tourists, who were lucky to be on the wrong floor, saw Michelle pop up in a giant gift box.
It was a delightful surprise; Michelle and Jimmy had a great time, and so did the tourists, they screamed and were overly excited.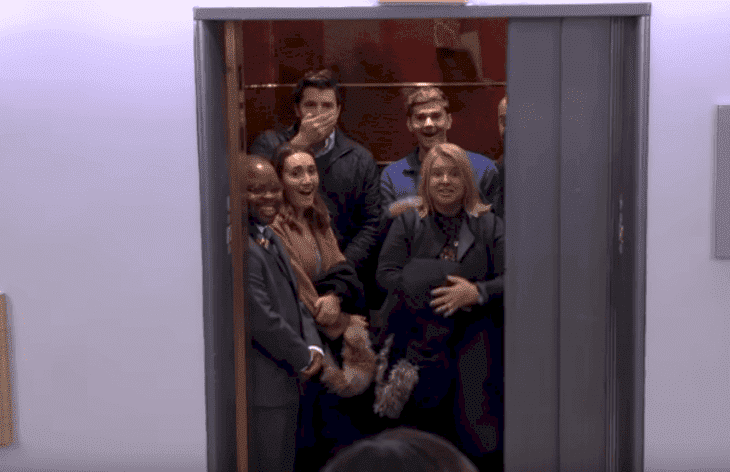 YouTube/The Tonight Show Starring Jimmy Fallon
There was a brief awkward moment when an empty elevator arrived, but it still piled into good laughs.
Later, the former FLOTUS sat down with Jimmy to talk on a number of topics, one of which was her new book "Becoming."
She also opened up about her marriage counseling with Barack Obama. According to Michelle, every marriage requires a lot of work if it is to be successful. Marriage counseling made her understand the importance of making herself a priority.
"...I had to learn how to fill myself up and how to put myself higher on my priority list."
The former FLOTUS, who has been very open about her marriage, says she shares this information because she's aware that so many young people would like to have a marriage like hers. She wants them to understand that it takes a lot of work to achieve the desired relationship goals.
Michelle Obama stole the spotlight during the show and encouraged young girls as she frequently does to place a lot of value on themselves. According to her, it's one of the many reasons her marriage to Barack has stood strong and true.
Michelle is not the only one who has surprised fans this holiday season. The former POTUS himself did something similar with patients and staff at Children's National Hospital. Wearing a Santa hat, he went bearing gifts of different shapes and sizes to the hospitalized kids.
Please fill in your e-mail so we can share with you our top stories!