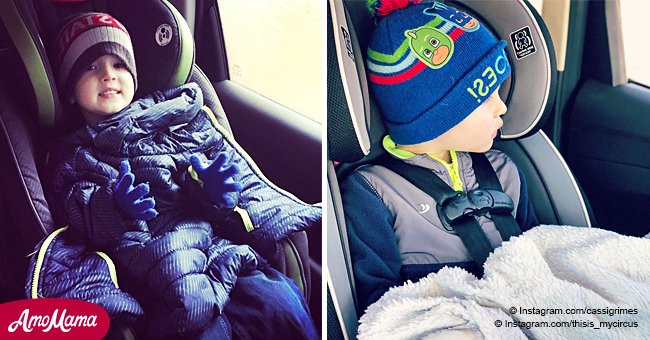 Mother posts an important reminder of why babies shouldn't wear a winter coat in the car
Parents, especially mothers, are often criticized when their babies are seen without a coat in the car seat.
But a mother has come out on social media to explain why babies are not made to wear a coat while in the car seat.
"If you're out and about and see a parent with a baby/toddler who isn't wearing a coat, please don't assume that parent is some kinda monster who doesn't care if their kids freeze," she wrote in a now-viral post on Reddit.
Follow us on our Twitter account, @amomama_usa, to learn more.
She explained that car seat guidelines warn against children wearing coats in car seats. This makes it challenging for parents or caregivers.
"Seriously it's chaos. And since there's not a great commercial product to solve this issue yet, everyone comes up with their own solutions," she said.
CUT THE SLACK
Some parents use blankets while others use lots of warm layers, hats or gloves. Still, others do the coat-shuffle at every stop.
"So what I'm saying is, cut parents some slack. We're trying. And we're doing everything we can to make sure our kids are warm while maintaining what's left of our sanity," she ends her note.
According to Today's Parent, thick or bulky coats can make car seats unsafe because this prevents one from getting the car seat harness tight enough.
TIPS FROM AN EXPERT
Jen Shapka, child passenger safety technician and instructor with the Child Passenger Safety Association of Canada, shares tips to parents.
"Have your kid wear his coat to the car, climb in, take it off, buckle up, then put it on (backwards). Or use blankets. You can also start your car and warm it up in advance—but I know that's not always practical," she said.
"I know it's cold. Getting kids buckled in without a warm coat on a cold and windy day is a pain. But the alternative is ejection or partial ejection if you're in an accident. It's as simple as that."
She continued: "You can also look into buying car seat-safe layers—they're thin, down, compressible layers. They aren't warm enough to play outside for two hours, but they're great for running errands. Just be careful not to upsize. It should fit close to the body and fit into the harness."
Please fill in your e-mail so we can share with you our top stories!