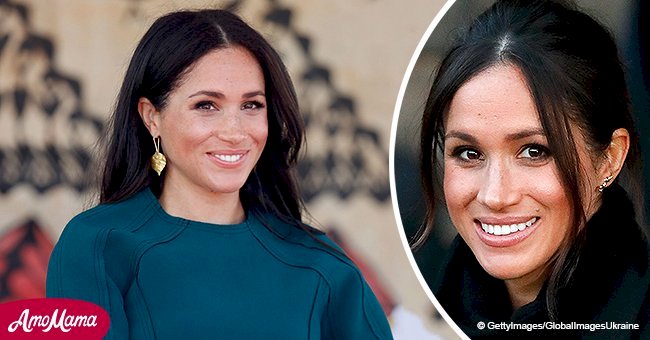 Subtle makeup trick Meghan Markle uses to make lips look fuller, but not everyone sees it
Meghan Markle looks fabulous all the time, and she bearly even wears makeup. Do you want to learn some tips from the Duchess of Sussex?
Since her break from the big screen to the Duchess of Sussex, we have seen many style changes in Meghan Markle. Some more remarkable like her new hairstyle and others much more subtle as her makeup tricks best kept.
Today we bring you several tips of beauty that the Duchess of Sussex has not revealed but we have seen present in a very subtle way in each of her makeup.
And this time it is not about your illuminator, but we have to talk about one of the beauty tricks that she has never left out in each and every one of her 'looks'.
We refer to overlining the lips. A technique that returns directly from the 90s reinvented and that applied in the right way can get much more volume on our lips.
Meghan Markle uses a lip liner a shade darker than her natural lip tone, shaping the natural line of her lips and focusing on the center of the mouth and corners, achieving a much more natural look.
To begin to delineate what most make-up artists recommend is to start with the cupid's arch area, this will maintain the symmetry of the outline. For some of her 'looks' Meghan Markle adds a glossy and transparent touch as a final touch.
As for the color of the outlined, Meghan Markle tends to use different shades of nude tones. A type of colors that greatly favor your skin tone.
But for lighter skins beige and pink tones are recommended, while for the darker tones candy, bronze or brighter tones triumph.
In another story, Meghan Markle may have become a member of the royal family, but when it comes to her friends, she insists that nothing will change.
The Duchess of Sussex gave this assurance to makeup artist and close friend Daniel Martin, who was responsible for the flawlessly beautiful look of the royal bride.
Martin is a seasoned professional in the field of makeup and beauty, having worked for brands like Honest Beauty and Dior.
Please fill in your e-mail so we can share with you our top stories!