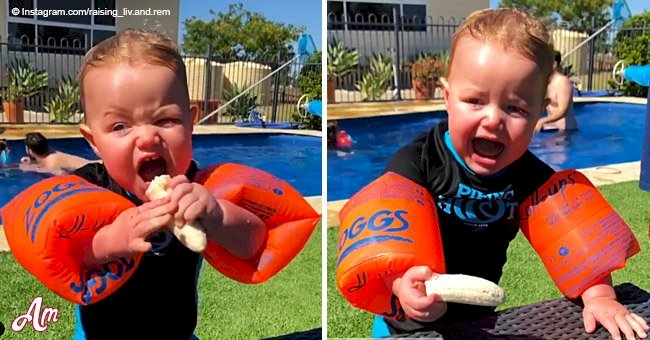 Mom labelled as horrible parent after posting her toddler son trying to eat a banana
Almost anyone who has pulled a prank has been seen as mean by the recipient. However, there is a mother who recently received a significant backlash for a funny video she posted of her son.
Kate Nissen, a mother of two, recently posted a video on Instagram of a funny incident that happened when she was at the pool with her family.
The adorable video shows her son, Remy, dressed for the pool, complete in a full body costume and floaties on his arms.
Read more on our Twitter @amomama_usa.
BANANA BOY
In the video, Kate's son is trying to eat a banana, but as he is wearing floaties on his arms, he is unable to get it into his mouth. Her laughter can be heard while she records this funny moment.
The video received a lot of attention, especially from those who disagree with her parenting choices. She has been called a bully and a horrible mother for recording it instead of taking the floaties off so that he can eat.
Critics also pointed out that the boy was red-faced and assumed that Kate had allowed her son to get sunburnt. Kate defended herself by saying that he had very sensitive skin and was teething.
Initially these negative comments worried and upset Kate, but eventually, she decided not to tolerate it any longer and now deletes all negative or angry comments that she receives.
AYESHA'S ANGEL
Many mothers enjoy posting about their children on Instagram, not only Kate. Ayesha Curry is one of them. Earlier this year she published a heartwarming photograph of her newborn son on the platform.
In the picture, she is holding her son while looking at him with a glowing expression of love. She is wearing a black shirt, and he has a white onesie with blue stars on it.
The picture received over a million likes and numerous positive comments from Ayesha's followers.
PHOTO SHAME
Unfortunately, photographs of mothers with their newborns sometimes evokes negative comments online.
Constance, an Australian author, and blogger posted a photograph of her and her newborn where the father is tending to the baby, and she is relaxing in a hospital bed holding her phone.
She received criticism for this by those who felt that she should be spending time with her son instead of looking at her phone.
Please fill in your e-mail so we can share with you our top stories!