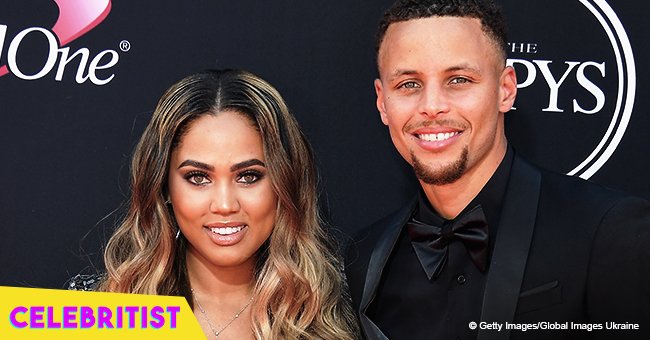 Ayesha Curry gently holds newborn son in new photo
The basketball player's wife recently gave birth to a son and took to her social media account to share a photo of herself holding the newborn baby.
Ayesha Curry, and her husband, NBA professional player Stephen Curry, welcomed their third child, Canon W. Jack Curry, early in July. The couple was pleased to show him off almost immediately through an Instagram photo.
In the image, Ayesha is shown wearing a black shirt while holding Canon in her arms. The baby was wearing a white onesie that had several blue stars all over it. One of the cutest aspects of the picture was Ayesha's face, which showed nothing but love.
For the caption, the proud mother made her feelings clear by writing "pure bliss." Ayesha also wrote that it was a rare photo of her and her 'new man' sharing an intimate moment. She then admitted to being in love with the baby.
As soon as she uploaded that photo, her fans and followers took to the comment section to share their thoughts.
One of them was Instagram user @4849barb, who felt that it was a very special moment and shared that they were happy for Ayesha and her family. User @brickhouse9 congratulated the couple and added that Canon was a wonderful blessing.
With basketball season over, Steph also has plenty of down time to help his wife with their growing brood. In another Instagram post by Ayesha, she showed her husband multi-tasking as he held onto baby Canon. The caption read:
"The two men in my life enjoying a little Golf Channel. Swoon. I know @stephencurry30 can't wait to get this little guy out on the course. UNTIL THEN... we wish you good luck this weekend in Tahoe dada!!! Hit em straight. 'Get in the hole!'"
According to People, Stephen and Ayesha welcomed their third child on July 2, 2018.
The proud mother uploaded the first photo of her new son to Instagram two days later. In the image, baby Canon was being held by Ryan and Riley, the couple's two daughters.
In the caption, Ayesha shared how wonderful it is to finally have her baby boy in the family.
"My heart is FULL. God has been too good to us. Our beautiful baby boy Canon W.Jack Curry 7/2/2018. He joined us earlier than we thought and we couldn't be more excited and grateful. Family of 5! @stephencurry30 #mynewman by this mama of 3!" she wrote.
Interestingly, all three of the couple's children were born in July, with Ryan having turned 3 on July 10, and Riley celebrating her birthday on July 19.
Canon is the couple's only son, and Steph could hope that he will join him and his father in keeping up with the family tradition of basketball some day.
The couple decided during Ayesha's pregnancy that they didn't want to find out their baby's gender, leaving them to be pleasantly surprised when they finally got their little boy.
Please fill in your e-mail so we can share with you our top stories!