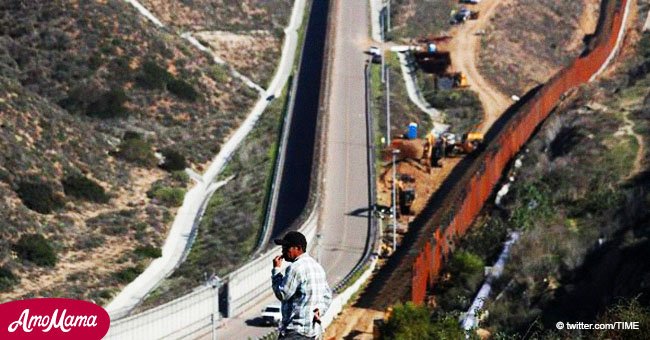 House approved $5.7 billion in border wall funding to avoid government shutdown
On Thursday, House Republicans voted to approve a bill to fund President Donald Trump's border wall. The deciding factor is said to occur on Friday in the Senate.
A final decision needs to be made to avert a government shutdown. The bill wasn't supported by any of the Democrats.
It's not looking good for the bill's prospects in the Senate because the Democrats have pledged to disapprove it. The Republicans won the vote at 217-185.
Only eight Republicans voted against the package. The bill includes $5.7 billion which will be used to construct a border wall and $7.8 billion for disaster relief.
For more on this story go to our Twitter account @amomama_usa. The money is also set to fund the government until February 8, 2019.
President Donald Trump was pleased with the outcome and he praised House Republicans for passing the measure. He also noted in a tweet that upcoming speaker of the House, Nancy Pelosi, had said last week in the White House that the GOP didn't have enough votes.
The president rubbed it in her face and said she didn't have to apologize. He added, "All I want is GREAT BORDER SECURITY!"
Despite this win, Rep. Mark Meadows stated that the bill was unlikely to clear the Senate. Meadows is the chair of the House Freedom Caucus and driving force behind convincing Trump to reject a bill without border wall funding.
He stated:
"I do believe that Sen. Schumer is a deal maker. I think that right now Sen. Schumer, Sen. McConnell and the president can hopefully make a deal."
Meadows also shared that he didn't believe the president would sign a stop-gap funding bill without $5.7 billion in wall funding. The vote was passed just before 8 p.m.
Alexandria Ocasio-Cortez is a New York resident who will be sworn into office in January. After the voting results were revealed she slammed the GOP for the amount they wanted in funding.
She revealed that the money could be used to pay teachers better, replace water pipes, give college tuition/prescription refill subsidies, and produce "green jobs."
Please fill in your e-mail so we can share with you our top stories!