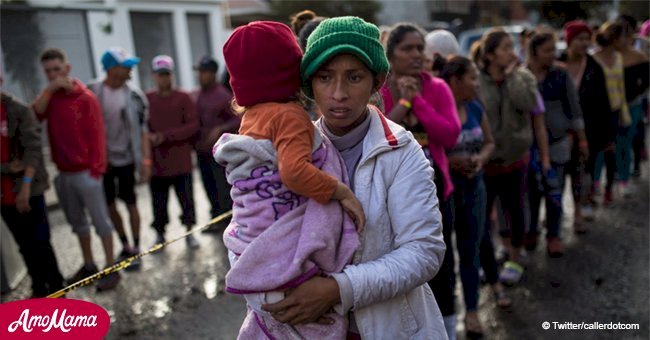 Mom from migrant caravan blames Border Patrol for her 5-month-old daughter's pneumonia
After spending five days inside 'iceboxes' operated by border authorities in California, a 5-month-old girl got hospitalized with pneumonia, and the young mother blames authorities.
A. Portillo, the 23-year-old mother, and her daughter got placed in holding cells after she jumped a low section of the border fence to find safety from an abusive spouse, and start a new life with her daughter.
The holding cells are referred to by the migrants as "hieleras" or "iceboxes" because they are so cold.
Human rights advocates describe them as "often poor and in several critical respects identical to those found by US courts to be in violation of [Customs and Border Protection's] obligations and prior commitments."
Read more on our Twitter account @amomama_usa.
After A. Portillo and her daughter got detained on December 12, near Tijuana, they got held in one of these iceboxes near San Ysidro Port of Entry for two days.
The 5-month-old girl had been taking amoxicillin, an antibiotic that she wasn't allowed to keep while in custody, Portillo told authorities that her daughter was sick, but they merely told her everyone coming in are sick.
They refused her the medication and gave her no opportunity to see a doctor and Portillo said:
"I said I needed a hospital because her breathing was getting worse. The agents told me I wasn't in a position to be asking for anything and that they didn't tell me to come to the United States."
Two days later Portillo and her daughter got transferred to a facility in San Diego, where they stayed in similar "freezing" conditions for another three days. The same conditions that the National Immigration Law Center called "unconstitutional" and "inhumane."
After a total of 5 days in those conditions, Portillo and her daughter got released with an ankle monitor where the two flew to North Carolina to be with family.
The baby girl became physically sick with a rising fever of 102.7 and got hospitalized, and diagnosed with pneumonia.
This is unfortunately not an isolated case, as just a week prior, 7-year-old Guatemalan girl, Jakelin Caal became sick and died on December 8, after Border Patrol custody denied care to the ill child.
The Department of Homeland Security issued an incident report that stated that everyone taken into custody got screened at a remote substation and was found to be in good health.
Jakelin and her father, together with 163 other immigrants crossed the border illegally on December 6 and started getting seizures 8 hours after. The girl got flown to the Providence Children's Hospital in El Paso but died on December 8 of dehydration and shock.
According to the U.S. government, Jakelin had traveled for days without food and water through the desert and was beyond help when taken into custody. Jakelin's father disputes this and said that she was fine when they got detained.
Kirstjen Nielsen, the Director of the Department of Homeland Security blames the family stating that they chose to cross the border illegally.
Please fill in your e-mail so we can share with you our top stories!