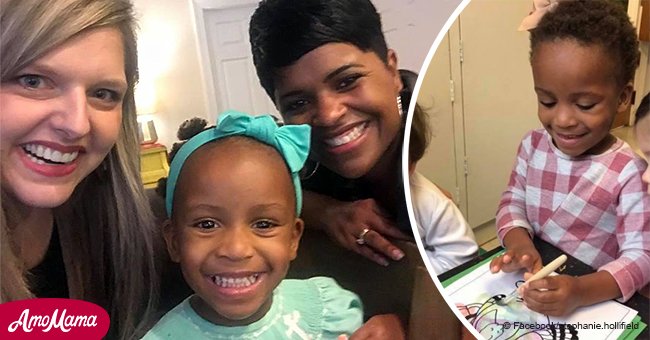 Adoptive mom begs for help with her daughter's hair and gets a sweet response from a stranger

A desperate adoptive mother asked for help dealing with her African-American daughter's hair but she received so much more than just advice.
Stephanie Hollifield, from Georgia, had no idea what she was doing wrong but she tried her best and failed. Fortunately, an angel by the name of Monica Hunter arrived to save the day.
According to Hollifield's Facebook post, she was surprised by how helpful and kind Hunter was and how she managed to connect with her after only one encounter.
Follow us on our Twitter account @amomama_usa to learn more.
NOTHING SEEMED TO WORK
It is no secret that African-American women use several techniques and products to take care of their hair, but being born with straight blonde hair, Hollifield had no experience on the subject.
She would help her daughter, Haley, get ready for school every day but, despite all the advice given to her by her black friends, the little girl's hair would still look clumped and messy.
TIME FOR A HANDS-ON APPROACH
Hollifield bought every product and tried every technique imaginable, but nothing worked. That's when she turned to Facebook to ask for help and Hunter stepped up to the challenge.
As an African-American mother with three daughters, Hunter knew exactly how to help. But, instead of giving Hollifield more advice, she decided to meet her in person and show her how it was done.
THE START OF A NEW FRIENDSHIP
Haley felt comfortable with Hunter right off the bat, and while working on the child's hair, Hunter gave Hollifield step-by-step instructions that would prove invaluable.
During the time they spent together, the mothers talked about marriage, friendship, parenting, education and even race issues, which made them realize that they had so much in common.
RACISM TODAY
In the end, Hollifield and Hunter found a friend in each other and, according to the former, they are already making plans to include their husbands and children the next time they meet.
Unfortunately, racism is still a big issue in today's society, so small and kind gestures such as Hunter's are deemed rare. Thankfully, there are people willing to stand for what is right, even if it costs them their lives.
That was exactly what happened to Chad Merrill, a 25-year-old from Pennsylvania who was killed after standing up for his friend Jerrel Douglas outside a restaurant.
Douglas was being a victim of racial slurs by a man named James Saylor, who eventually pulled out a firearm and fatally shot Merrill in the chest. The criminal was later arrested at his parent's residence and is currently being held at York's County jail.
Please fill in your e-mail so we can share with you our top stories!