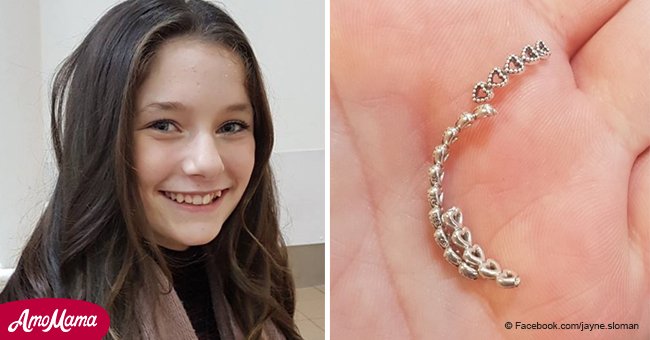 Outraged mom posts harsh message for her daughter's school bullies, and it goes viral

Jayne Sloman has slammed merciless bullies who ridiculed her 13-year-old daughter Dennimay Sloman on social media, which quickly went viral.
Following a campaign of maltreatment from bullies, Dennimay physically dropped to the floor from weakness when she came back home from school, as reported by Daily Mail.
During one occurrence, Dennimay's poppy, which had been given to her by her soldier brother, had been stolen from her bag.
The Facebook status earned over 85,000 reactions and 30,000 shares. Many people also added their thoughts via comments.
Follow us on our Twitter account, @amomama_usa, to learn more.
The teen's Pandora ring had been crushed into pieces too. It took place at Merrill Academy in Derby.
Recently, her sorrowful mother Jayne, 38, decided to post a defiant message on Facebook aimed at the bullies.
Jayne wrote: "To the little [expletive] who say her hair is greasy says her acrylics are [expletive] and that's she's a slag and fat and ugly and has [expletive] hair [expletive] shoes [expletive] school bag, charity shop clothes [expletive] in sports the list is endlesssssss....
"She says thanks for going in her bag and throwing everything everywhere and thanks for stealing her pack lunch and thanks for breaking her Pandora ring in 3 pieces (while) she was in PE.....
"They earned Dennimay (an) afternoon off school and a trip to town (tomorrow) for a McDonald's and a trip to Pandora for a new ring.
"You can break and steal my (girl's) items we will replace every item but you will NEVER break her mentally EVER......
"She will always have this smile on her face.
"Good luck to you thinking back in several years what horrid [expletive] you was!"
The Facebook status earned over 85,000 reactions and 30,000 shares. Many people also added their thoughts via comments.
One user wrote: "Bet the bullies are ok in a group but bet they (can't) face this beautiful young lady on their own... hate bullies disgusting... keep (your) head high girl (your) better than that and (don't) ever let ANYONE break (you) in (any way.)"
"Every brave young lady so proud of you stand up to bullies your very special," added another.
"Well said I'm so glad dennimay is ok and it's good to hear the parents and some of the girls have apologised she has the most contagious smile," commented another user.
In an interview with Daily Mail, Paul Beedle, Merrill Academy's deputy headteacher, said that he had met with Dennimay's parents.
He also said that the school was not able to reveal information about the case.
Bullying has taken away so many young lives. A lot of parents have asked for stricter measures against bullying at school in recent years.
Please fill in your e-mail so we can share with you our top stories!