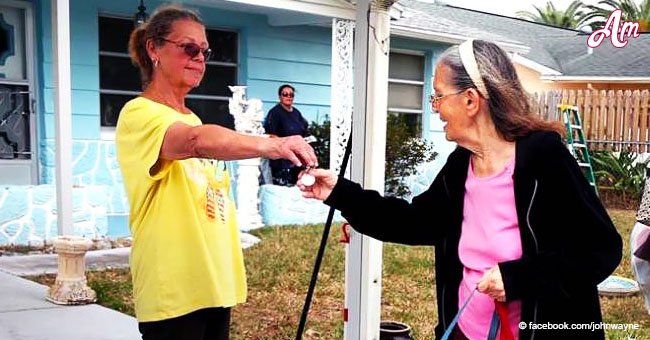 89-year-old woman was evicted but her generous neighbor bought the house back
As Christmas gets near, is good to remember of some of the random acts of kindness that have melted hearts all over the internet in past years. Such was the case of Angie Tyma, who at 88, was evicted from her home. However, her neighbors rallied up to help the woman, and they gave her the perfect gift for her 89th birthday.
Tyme lived in a house in Hudson, Florida, for 35 years. She sold the home to a friend of the family after her husband died 20 years ago. She paid rent every month so, she was surprised to learn that the new owner, who lives in Europe, had stopped making the mortgage payments and the house was up for foreclosure in 2016.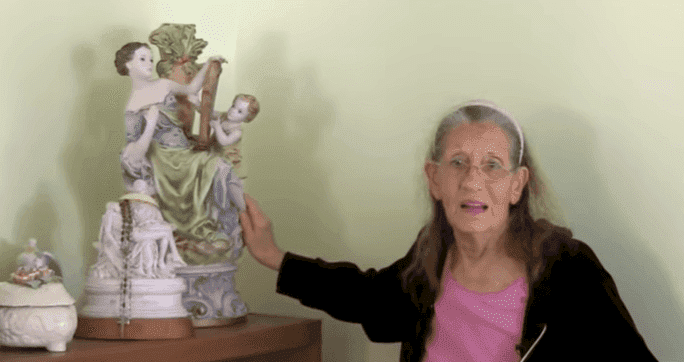 Source: YouTube/ABC Action News
Angie didn't believe she would be kicked off the property, but the house was sold in an auction to an investment company and she and her belongings ended up on the sidewalk after the new owner showed up to her door without further notice.
The senior had become an essential part of her neighborhood, so, after watching her leave the house she had lived on for years, her neighbors decided to step in and offer some help. First, they moved Tyma's belonging into a local Boys & Girls club. They also took her two dogs, Pepper and Ralph, to a motel where a neighbor worked.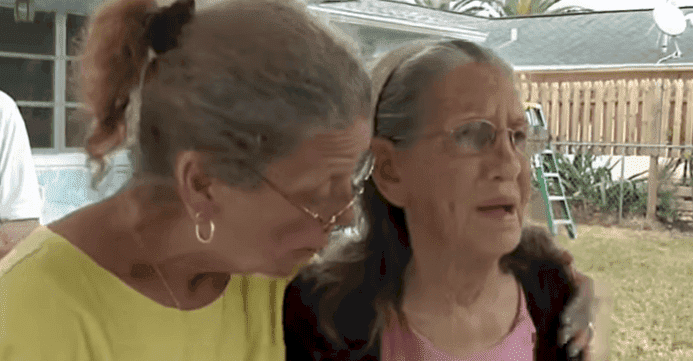 Source: YouTube/WFLA News Channel 8
Meanwhile, Angie moved temporarily to a Days Inn Hotel. Until her friend Danielle Calder, who lives between Boston and Florida's west coast, purchased the house back from the company for $165,500. Now, she's Tyma's new landlord.
Calder said of the decision to buy the house that she didn't need another home and added "But I needed her. I couldn't see her living in a motel room... she's been here so long. Everyone looks out for her."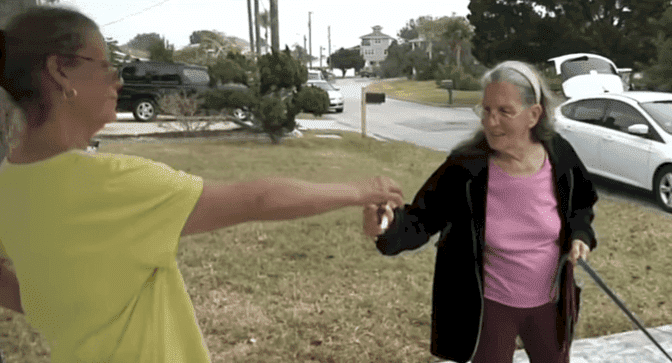 Source: YouTube/WFLA News Channel 8
Tyma said losing her house was scary and added "I went through hell and back. "I've lived in this house for 35 years."
On the day of her 89th birthday, Tyma returned to her old house while her neighbors waited outside with a celebration ready to be started and the key to the home.
"Usually one of my neighbors bakes me a cake every year, but this time, when I got out of the car and saw all these people, and the media... I was in a state of shock," she said. "I was speechless. I couldn't even talk."
For Calder, her purchase was more than worth it if it meant helping a member of the neighborhood that is like family. "It was the right thing to do," she said.
93-YEAR-OLD GETS EVICTED AND THEN ARRESTED BY POLICE
Juanita Fitzgerald, 93, got forcefully evicted from her retirement home at Franklin House in Eustis, Lake County, Florida and arrested mere days before her 94th birthday.
Fitzgerald arrived at Franklin House in April 2011 but allegedly stopped paying rent this year as she felt she would die soon. Officials from the retirement home warned her she should pay or she would be evicted, but Juanita didn't take them seriously.
She stubbornly refused any help as the nursing home tried to set her up with homeless agencies.
Police got involved in the case and Juanita was forcefully removed from the home. The lady was held on a $500 bond at a Florida prison. According to a spokesperson at Franklin House, incidents like these are rare and they always try to help with alternative placements.
Please fill in your e-mail so we can share with you our top stories!