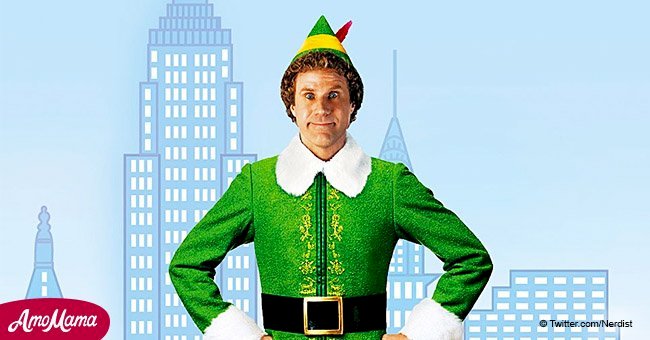 Will Ferrell shares his favorite scene from the iconic Christmas 'Elf' movie
Now that we are in the middle of the Christmas season, it is undeniable that there are some movies that we can see again and again without fail.
One of those films that can not miss during this season is Elf. The 2003 comedy starring Will Ferrell and Zooey Deschanel.
The beautiful blue-eyed actress meets Buddy the elf, a human who was raised by elves at the North Pole, but after growing up too much for his home, he decides to go out and find his true family.
It is an ideal movie to enjoy as a family, with wonderful hilarious moments and other moving ones. Follow us on our Twitter account @amomama_usa to learn more.
It turns out that even its main actor was not immune to some of the moments that brought tears to the eyes of the spectators.
In a recent interview with Rotten Tomatoes, Will Ferrell, who played Buddy, revealed that there is a scene from the movie that always makes him cry. And as expected, is one of the most emotional moments of the plot.
The scene that the actor refers to is towards the end of the film, where a crowd of people gather in Central Park and sing 'Santa Claus Is Coming To Town'.
Just at that moment, Santa's sleigh has crashed in the park because there is not enough Christmas spirit to keep it going.
"When Buddy is in the back of the sleigh and everyone is singing in Central Park and there's enough Christmas spirit to get it lifted off, I'm like, 'Oh, I can't let everyone see me cry here at my own movie.'" Said the actor.
Certainly, it is one of the most beautiful moments of the entire movie. Now, when you come back to enjoy this Christmas classic, we know you will look forward to this moment. Hopefully, it will also remove your heart's fibers and make you shed some tears.
As reported by Unilad, and according to a Fandango poll, the movie has been considered the best Christmas film of the 21st century.
CinemaBlend also considered it the most popular film to watch around the holidays, trampling over the competition and making movies like "Home Alone" and "The Muppets Christmas Carol" bite the dust.
Please fill in your e-mail so we can share with you our top stories!