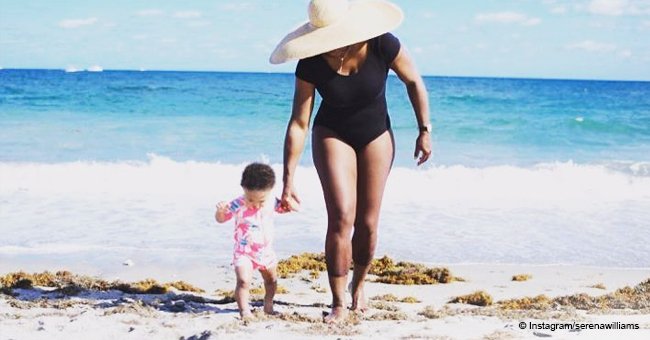 Serena Williams flaunts her legs in adorable beach photo with 15-month-old daughter Olympia
Serena Williams is enjoying a well-deserved holiday vacation with her little family, and she took to Instagram to share an adorable pic walking alongside her 1-year-old daughter, Alexis Olympia, on the beach.
Serena Williams is flaunting her enviable body and toned legs in a recent Instagram pic with her baby girl. Donning a black one-piece swimsuit and a wide-brimmed hat, Serena took her daughter by the hand leading her through the sand in an adorable mommy-daughter portrait that could be a summer postcard.
Olympia stole the spotlight, as usual, wearing a pink floral patterned romper as she looks down on the sand with interest. Williams didn't caption the pic, but fans made sure to fill her comment section gushing about baby Olympia and Serena's beauty.
"Beautiful Queen n her Princess," wrote one user. Another added, "She has her Mama's strong legs. She is adorable," and a third one chimed in to say "Awww so much blessings! Children make us alive!"
GETTING EVERYTHING DONE
Ever since she had Alexis Olympia, Serena has been open about her struggles trying to balance out her professional life with motherhood, including her childbirth complications, her post-partum depression and those times where she felt she wasn't doing enough for her girl.
"I think it's important to expect to have some really rough times when you're going through something, but always know that you can overcome it."
However, Williams has managed to excel, at least in the eyes of her fans. But she still can't quite grasp how she manages to do everything that needs to be done, as she told Teen Vogue on their December issue.
"Honestly, I don't know. I go to bed every night thinking, How did I get through this day? I'm sure a lot of people out there can relate, right? It's like, this day is over, it's 10 o'clock, I got through it. How did that happen? That's kind of how I am," she said.
And added:
"So, that has been... OK, now I'm training on top of running this fashion company, on top of being a full-time mom. I'm super hands-on as a mom. I just take it as it is and realize that everyone goes through the same thing."
GROWING FROM MISTAKES
The 23-times Grand Slam champion, made quite the controversy after she got into a verbal discussion with the umpire at the U.S Open final, and subsequently lost against Naomi Osaka after the judge decided to penalized Williams an entire set.
That kind of mistakes would surely haunt any athlete, but Williams is learning to live with and embrace her flaws and mistakes.
"I think it's really important to realize that no day is going to be perfect. For me, that's really hard because I strive for perfection, and I feel like everything I do has to be great and has to be perfect because I am a true perfectionist. But that's impossible. That's not reasonable," she stated.
"Then I realize that, OK, I had a rough day today, let's do something to make it better tomorrow. I think it's important to expect to have some really rough times when you're going through something, but always know that you can overcome it."
That same mentality has helped Williams with Olympia. After she realized she had missed the girl's first steps, Serena took to social media to express her sadness, only to be comforted by thousands of moms and dads that had gone through similar circumstances.
The support made Williams realize that every parent has a different experience and that sometimes it is impossible to be present at every single moment. Either way, Williams keeps enjoying the blissful joy of motherhood, and it sure looks good on her.
Please fill in your e-mail so we can share with you our top stories!