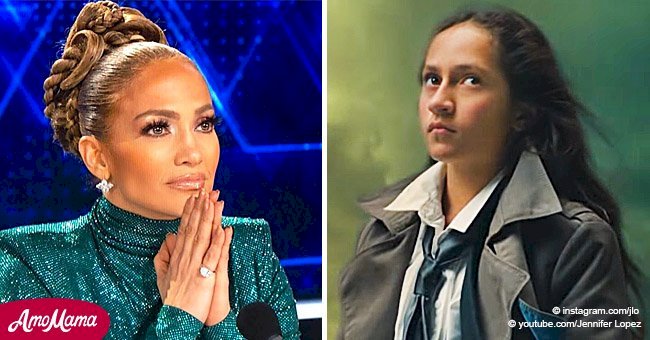 Jennifer Lopez's 10-year-old daughter joins mom in her powerful new video

Jennifer Lopez has released visuals to Limitless, and the video features her beautiful daughter, Emme, who mirrors her mum's younger version.
On Thursday, Jennifer Lopez released visuals to her empowering track, Limitless, a song that preaches strength and determination to women. It has a theme that says women can do anything they put their mind to. And no matter how much time has passed and how bleak things look, one has to keep pushing.
Follow us on our Twitter account @amomama_usa to learn more.
The video, which happens to be Lopez's first directed visuals, tells a story of triumph and determination as throughout the clip, Emme, 10 and Lopez, 49 can be seen climbing up a hill, refusing to give up on making it to the top. And once Emme makes it to the top, she catches a leaf which shows her a reflection of her mom - the future version of herself.
Emme proves to have inherited her mom's DNA as she channels some of Lopez's dance moves and fashion style.
On The Tonight Show with Jimmy Fallon last week, Lopez revealed that she had a proud mom moment on set, fighting back tears as she narrated the experience.
'...She was so amazing and I was so proud', she said, 'I forgot that I was directing my first video, it was all about her. It was all about her'.
'And when you see the video, it's so empowering for, just to see her doing this but, like, for women. It talks about being limitless, it talks about having second acts, it's a beautiful scene as well, and great to share with her, doing that. We really bonded'.
Limitless features in Lopez's upcoming film, Second Act, which tells a story about an assistant store manager, Maya Vargas (played by Jennifer Lopez), who wants nothing more than to get a promotion for her 43rd birthday. Sadly, she loses the job to a more educated candidate.
This ignites the fire in her as she embarks on a journey to prove that street-smarts are just as valuable as book-smarts. Although it took quite a while, not to talk of the efforts put in, Maya Vargas ends up exactly where she belongs. Again, determination!
These days, the sweet songstress seems to be counting her blessings: her music still thrives, she has four beautiful kids and above all, she and her partner, Alex Rodriguez are growing deeper into their love.
Just this Tuesday, the smitten couple shared a picture of their duo on a double swing; beaming with so much happiness. Is their love ever going to end? We hope not!
Please fill in your e-mail so we can share with you our top stories!