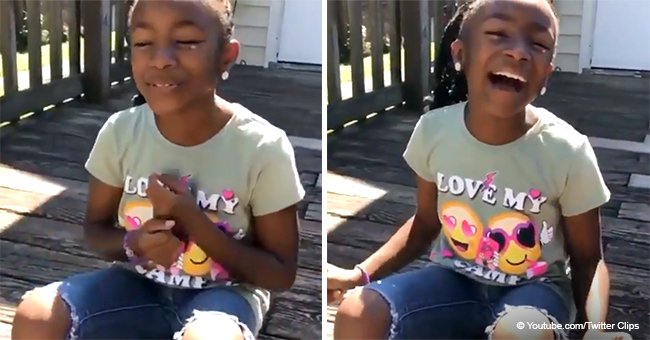 Viral video of little girl singing 'The Jackson 5' hit song still takes the breath away
Bri'Anna Harper caught social media's attention with her perfect acapella rendition of "Who's Loving You" by the Jackson 5. After going viral, the girl made her debut on TV on Ellen DeGeneres show, and she and her family got more than they ever expected.
When a video of 10-year-old Bri'Anna, from Chesapeake, went viral, she never expected to go as far as to appear on "The Ellen DeGeneres Show" as she confessed to the host. Sporting a polka dot dress with a red flower belt, the girl sat with DeGeneres and stayed calm and collected through her interview.
She revealed that she's been singing since she was 5, and confessed she doesn't like modern music. "I like to listen to '80s, '90s and '60s greatest hits," Bri'Anna said. "My mom told me when I was a little baby, I wouldn't go to sleep until I heard Aretha's greatest hits."
Harper also revealed she has a 5-year-old sister named Kayla that can sing too, as her parents, Fabian and E'boni, gushed from the audience about their little girl. Then, Bri'Anna took the stage to perform the hit that made her go viral, earning a stand-up ovation from the audience and a hug from an impressed DeGeneres.
But the show didn't end there for the Harper family.
A HUGE SURPRISE
Ellen proceeded to show a video of E'boni's reaction after learning her daughter was going to be on the show, and invited the mother of two to join her on the sofa. After many hugs and 'thank yous,' E'boni revealed how proud she and Fabian are of their daughter, and stated once again that they didn't think going viral would take them that far.
And because Ellen loves to surprise her guests, she presented E'boni with a huge magnet that reads "Proud parents of a daughter who sang on The Ellen DeGeneres Show." She then asked E'boni if she had a car to put the magnet on, to which the pre-schooler teacher replied yes. "Is it a good car?" insisted Ellen, and E'boni once again replied positively.
However, DeGeneres was not convinced and decided to surprise the family with a brand new 2019 Honda Pilot. E'boni started jumping around and screaming instantly, while Fabian came down to the stage and stayed calm, thanking Ellen for her generosity.
And just when the mother of two had calmed down, Ellen revealed one more surprise in the trunk of the car: $10,000.
Speaking to the Virginian Pilot weeks alter, E'boni described the experience as a "whirlwind," while Bri'Anna said:
"It was like, is this really happening? I kept thinking, 'This is something I wanted to do, and now I'm actually here doing what I want to do.' Hearing Ellen's voice and looking at her – oh, my gosh!"
ANOTHER CELEBRITY NOTICES BRI'ANNA
Ellen is not the only celebrity who has noticed Bri'Anna's talent.
After a video of the girl singing to Tamar Braxton's hit "All the Way Home," she received a shout out from the star on Instagram.
"I released "All The Way Home" five years ago, and to know that today I still inspire kids of ALL ages...it just reminds me of why I started doing music. Thank you baby girl for reminding me of why I do what I do...p.s.i truly can't stop watching," Braxton captioned her post.
Despite her sudden fame, Bri'Anna is still trying to enjoy a normal life. She goes to school, plays with her sister and keeps of working on her vocals. Is clear that she has a bright future ahead with her incredible voice.
Please fill in your e-mail so we can share with you our top stories!