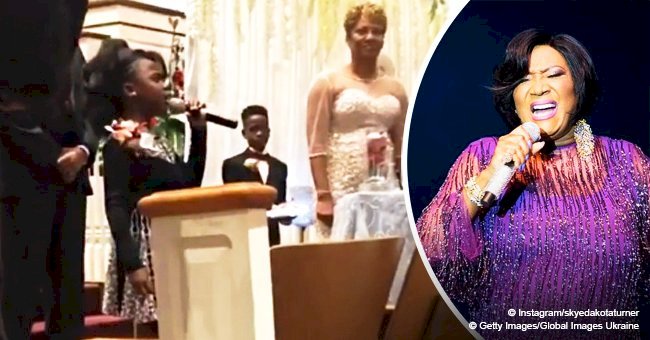 9-year-old girl goes viral with her powerful rendition of Patti LaBelle's 'If Only You Knew'
A nine-year-old girl from Texas has become the internet's latest star with her incredible voice. She performed a rendition of Patti LaBelle's song, "If Only You Knew" and the legendary singer could not help responding.
Skye Dakota Turner is just another nine-year-old until she opens her mouth in song. Then, this young girl transforms into a talented singer with amazing vocal abilities and a commanding stage presence.
In an Instagram video, Turner wowed the audience at a church wedding with her flawless rendition of LaBelle's 1983 chart-topper. The caption read:
"Today, I was proud to sing for Mrs. Gloria & Mr. Frankie Parramore!! Ms. Patti LaBelle said that she's my #1 fan."
"Sing Skye," LaBelle encouraged. "You are awesome."
Thousands of her fans watched the video she shared of Turner and agreed that the budding singer is, indeed, excellent.
And she's not a one-hit wonder either. Turner was featured on a segment of Good Morning Texas where she impressed the anchor and numerous viewers with an impromptu performance of Andra Day's "Rise Up."
People are predicting a successful music career for Turner, especially since the Godmother of Soul herself has endorsed her. LaBelle, 74, has spent about 60 years as a professional singer and continues to encourage young singers.
LABELLE'S LEGACY
Although the "You Are My Friend" singer reportedly had feuds with female singers in her generation like Diana Ross and the late Aretha Franklin, the story is different with contemporary acts.
In a 2014 interview with New York Magazine, LaBelle raved on about former "American Idol" winner, Fantasia.
"She's the mini-me!" said LaBelle. But "she kicks her shoes off a little too soon. In my show, I wait until the seventh song."
The mother-of-one also had glowing words for the pop star, Ariana Grande, saying:
"Oh, that girl is a little black girl in white skin! That little hussy! She sings like an old woman!"
ONE GOOD TURN
Some may say LaBelle's generosity with praise is what earned her the glowing review that shot her pie business to instant fame. In 2015, a vlogger named James Wright filmed a review of Patti's famous potato pie. The video went viral, and in no time, LaBelle's pies were sold out.
The Grammy Hall of Famer, who has also authored a dessert cookbook, said she doesn't eat the sweets she makes because of her diabetes.
"When people ask me about certain things, like why am I doing this dessert book or making this banana pudding, it's because I love to see people's faces after they taste my great desserts."
LUCKY TURNER
More recently, LaBelle joined the cast of Fox's TV series. She plays the role of Christine Brown, alongside younger actors like Queen Latifah and Brandy. All three posed for a photo last month and were all-smiles, proving that LaBelle indeed is a friend of the young.
Turner couldn't be happier to have a legend like LaBelle recognize her talent. Here's wishing her all the best.
Please fill in your e-mail so we can share with you our top stories!