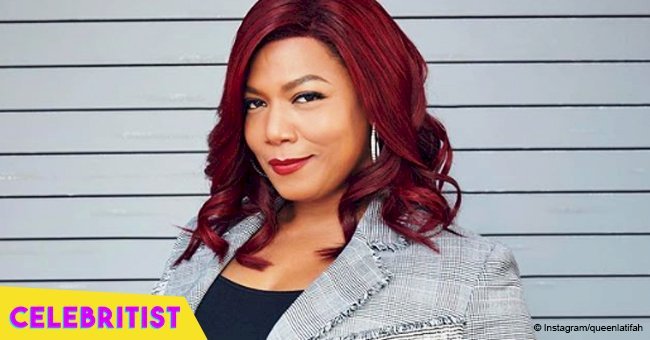 Queen Latifah flaunts her new hair color, posing next to Brandy & Patti Labelle in recent photo

Queen Latifah showed off her bold new hairstyle alongside "Star" co-stars, Patti LaBelle and Brandy. The incredibly talented women all looked splendid as they smiled at the camera.
Queen Latifah, born Dana Elaine Owens, rocked her new haircut- a layered, flame-colored piece with jagged edges. Latifah wore the hair parted to one side and nicely complemented with her outfit, a brown jacket, and white top.
LaBelle, or the "Godmother of Soul" as she's fondly called, looked stunning in a blue top and a jacket with multi-colored hems. The "Stir It Up" legend had on a burgundy bob that contrasted perfectly with her outfit.
Brandy posed to the right in what looked like a stylish gray frock. The singer and actor chose chunky, protective braids that went past her shoulders.
Probably taken off the set of their hit drama series, "Star," the snapshot showed three artistic and talented women who have all been doing well in their own right.
END OF A FEUD
Most recently, LaBelle was in the news after putting an end to her and Aretha Franklin's long-time feud following the latter's death.
Franklin, known as the "Queen of Soul" died on August 16 after a battle with pancreatic cancer, and LaBelle, who was known to trade banter with the late singer over the years, took to social media to mourn.
In a Twitter statement, 74-year-old LaBelle said:
"Today the world has experienced a tremendous loss. Aretha was a rare treasure whose unmatched musical genius helped craft the soundtrack to the lives of so many. My sympathy, love and prayers go out to her family, loved ones and fans around the globe."
DR DANA OWENS
Three months earlier, in May, "Girls Trip" actress Queen Latifah had been on Twitter with some news of her own. The actor, also a prominent rapper, announced that she had just received an honorary doctorate from Rutgers University.
In an inspiring speech, Latifah also told the graduating class:
"You may not realize it today, but you will over time that the love you find in family in every size, shape and makeup is a powerful teacher."
PREGNANCY RUMORS AND THE TRUTH
It was quite a different story for Brandy in May, who was busy fighting off pregnancy rumors. The famous Norwood sibling has been sporting a fuller figure in recent times but insisted she's not expecting a baby.
"It's funny how people are telling me I'm pregnant. First of all, you don't know what's going on in my stomach," Brandy said in a revealing interview.
The 39-year-old mother-of-one assured that her weight gain was because she decided to do away with diets and workouts.
"I went on a foodcation because I'd been eating clean for seven something odd years, in the gym, every day, playing tennis. I was like, 'Yo, I'm tired of this crazy discipline. I need something to eat!"
Latifah, Brandy, and LaBelle play Carlotta Renee Brown, Cassandra "Cassie" Brown, and Christine Brown respectively on the Fox TV series, "Star."
Please fill in your e-mail so we can share with you our top stories!