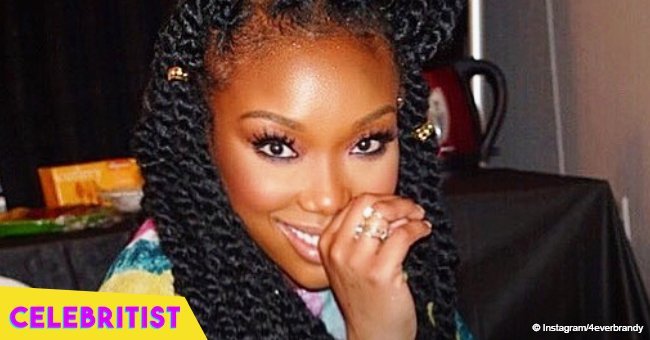 Brandy flaunts fuller curves in yellow off-shoulder dress after recent weight gain
Brandy Norwood is loving her new curves and does not care for the wild pregnancy rumors. She told a lie earlier on in her career when she cared for public opinion, but Brandy is all for living her truth now and is not bothered that most people may not agree with her reason for keeping a bigger size.
The award-winning entertainer was pictured channeling her inner melanin goddess in a yellow off-shoulder dress that displayed her fuller curves to their best advantage. She is flanked on the left by a fellow actress, Amiyah Scott, and both women appeared to be on a production set.
Brandy's latest photo is a nudge to her appreciation for and commitment to a fuller body despite rumors that the singer is pregnant. The rumors started last year when pictures of Brandy sporting a fuller body hit the internet. They escalated in May 2017 when she posted an Instagram photo that seemed to focus on her slightly swollen midsection, along with a cryptic caption.
The "Talk About Our Love" singer refuted the rumors many times, but fans were not having it. Her 16-year-old daughter, Sy'rai Smith, also confirmed her mom wasn't pregnant, but the rumors did not die down still.
Brandy had to address the rumors in an interview with True Exclusives. She owned up to her lie in 2002 when she feared what the public would think of her as a baby mama:
"You know what's crazy? When I was 23, I fibbed about being married because I wanted to have my baby. I thought if I didn't say I was married…I didn't want to lose my fans. I didn't want to disappoint anybody. Which is why I said I didn't want to go down the aisle just to go down the aisle because I'm pregnant. I want[ed] to be ready to do that, so let's just say that I'm married — which was the wrong thing to do."
She eventually revealed the reason for her current weight gain: A "foodcation," defined as a period of ditching diets and healthy eating. The 39-year-old mother-of-one explained:
"I went on a foodcation, because I'd been eating clean for like 7-something odd years, in the gym, every day, playing tennis. I'm like, 'Yo, I'm tired of this crazy discipline. I need something to eat! I want some pizza, I want some pasta, I want some cake! I want something other than salmon, broccoli, and asparagus."
Please fill in your e-mail so we can share with you our top stories!