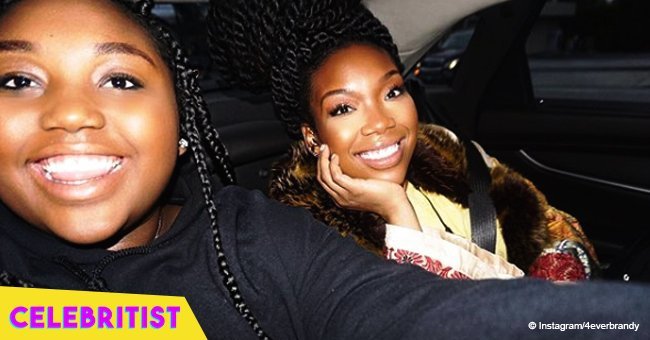 Brandy shares picture of 16-year-old daughter after cutting her hair
Brandy is extremely proud of her 16-year-old daughter Sy'rai Smith, who has been a constant advocate of self-love. Now, the lovely teenager has cut her hair in a style that teens would rarely choose.
Pre-teen and teenage years are crucial in forming a person's self-confidence, and the perception of body image is widely affected by media influences. This influence causes low self-esteem among young girls, thinking they have to look like their idols to be "in".
This is not the case for proud mother Brandy Norwood, who is breaking stigmas about weight and body confidence.
Sy'rai Smith, 16, admitted that when she was younger, she realized she was a lot bigger than most children. In an Instagram live video, she shared some advice with her viewers.
"There can be a beautiful person in a beautiful body, but in the inside, they can be so ugly. I'm not the skinniest. If you really want to change, change because you really want to change, don't change because other people are saying oh you're a big girl or you're fat."
Her proud mom was left in tears with her daughter's wise words and is extremely proud of her daughter for empowering young girls.
"@syraismith I see God only in you! I am crying and speechless."
Before she ended her Instagram live feed, she gave one last bit of advice to young girls about confidence:
"Don't ever let anyone else tell you who you are… Nobody's going to care about your weight as long as you walk in that school with confidence."
Now, Smith is breaking stereotypes yet again, this time by cutting her hair extremely short, in a way that most teenagers would not dare to do.
Brandy posted snaps of her daughter with her naturally curly hair, announcing just how proud she is of her lovely daughter.
"You are so brave. I admire you and I love you @syraismith..... love Mommy"
In the photo, the beautiful teenager is oozing with self-confidence, loving herself for the skin she's in. Her happy smile says it all: she knows she is beautiful, and she is not letting anyone else tell her otherwise.
You go, Sy'rai!
Please fill in your e-mail so we can share with you our top stories!