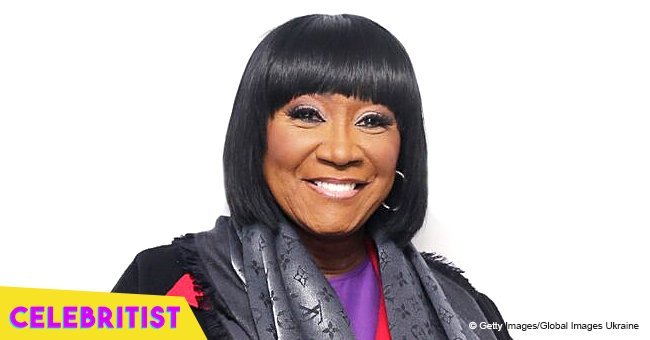 Patti LaBelle's son and granddaughters steal hearts in cute picture together
Patti Labelle's son and granddaughters were recently pictured in an Instagram post that's all shades of cute. Despite the strain on Labelle's relationship with her son some years back, she remains a doting grandma that is always proud of her babies.
In a three-image post on Labelle's granddaughter, Gia Edwards' page, Zuri is sitting at a restaurant table with his girls. There's no need for extra chairs because daddy's got it covered, balancing his girls on both legs and wrapping his arms around them.
In one of the photos, Gia, 3, looks like someone just pissed her off, or probably the mini-diva is protesting being treated like a child. Anyway, even with her frown, the three still manage to cut an adorable figure.
Zuri donned a pink t-shirt and dark aviator sunglasses while Gia and her baby sister Laila Roe wore matching blue outfits. In the second and third images, Gia looked cheerful, even stopping to kiss her father on the cheek at some point.
Gia and Laila have always been the center of attention in their family. Their famous grandma never ceases to flaunt her adorable grandkids, especially Gia, who already has a fierce personality at age three.
The little girl is known for her stylish outfits and sassy poses which she shares with over 5,000 Instagram followers. Multiple images of her twinning with her mother, Lona Edwards, have also won Gia a lot of fans.
Labelle's eldest granddaughter is no newbie to the Instagram life either. Two years ago, her grandma shared a photo where she looked ready to go shopping in a Celine top, jean shorts, gladiator sandals, and a wide-brimmed hat.
"My stylish little mini diva, Gia is just too cute and fierce!" Labelle wrote.
Earlier in 2016, it was reported that Zuri was not very pleased with his mother because of her new romance. The Godmother of Soul, then 71, was dating her 41-year-old drummer Eric Seats. A source revealed that Labelle and Seats began dating after he helped her get through a breakup.
Now, however, there are no signs of tension between the entertainer and her son, who doubles as her manager. Labelle continues to stay focused on her career and promote her sweet potato pie business which is doing well.
The success of her pies caused her to launch two new cakes at Walmart- vanilla pound cake with vanilla icing and a caramel cake- in January 2016.
Please fill in your e-mail so we can share with you our top stories!