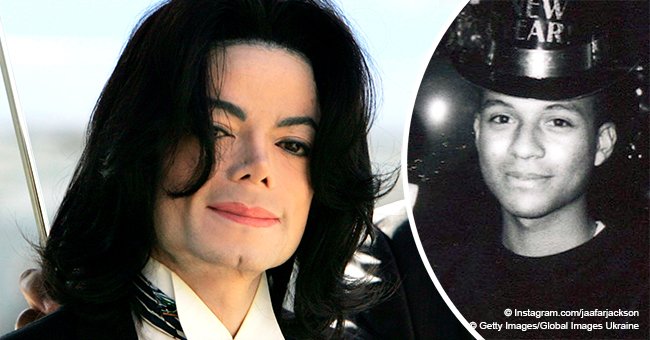 Meet Jermaine Jackson's son Jaafar who is all grown up and looks like a young Michael Jackson
Jaafar Jackson, the second youngest son of Jermaine Jackson, is al grown up now and ready to take over the music industry to continue his family legacy. The handsome young man shares a few traits with his late uncle Michael, and his voice, particularly, has fans over the moon.
He's one of Jermaine's nine children, and the third from the singer's marriage to Alejandra Patricia Oaiaz. Jaafar grew up in a family of entertainers, and while is not always necessary that kids follow their parents' steps, he inherited his family's passion for music and, most importantly, the drive to achieve their dreams.
At 22, he's already getting ready to make his debut in the music scene with his first album, with the mentorship of his father and other incredible producers. But Jaafar doesn't feel pressured to match his family's success. Instead, he sees his last name as a challenge.
"I don't really look at it as pressure, I look at it as motivation to work hard every single day. When creating I just believe in myself and trust my gut. If it sounds and feels good, then I know I have something," he told Design Scene last year.
Aside from creating music, Jaafar also enjoys the arts, special drawing. He also wants to try acting and directing in the future and is starting a modeling career alongside with music. "I'm really enjoying it," he said of the modeling world. "I love fashion and always have. It's important to me especially with what I'm trying to do in music."
MUSIC AND TOKENIZATION
Back in August, Jaafar made "The Reveal" about the way his album will be released, in an event organized by NASGO, a decentralized network that conducts global e-commerce with blockchain technology, at the Dolby Theater in Los Angeles.
Jaafar revealed that his album would be "tokenized." Talking a bit more in-depth about the blockchain process, NASGO's representatives explained that the creation of uniquely-branded digital tokens would allow a closer fan-artist relationship, and customers will have rewards such as branded merchandise, priority seating and early release of upcoming materials.
"Blockchain? It's like buying stock in a company. By buying tokens, you become part of that artist. So, a lot of fans will be able to be part of my music. If I had a chance to be part of some of the artists that I grew up listening to, I would love to have done that! This is new, and I believe a lot of people will love this," Jaafar explained to EURweb.
Eric Tippeatts, the co-founder of NASGO, further explains:
"Being tokenized means your functions are not carried along the internet or on your company server, but along an alternate conduit called the Blockchain, which is distributed, flexible and infinitely more transparent and safe," Tippeatts replied.
AMBITIONS FOR THE FUTURE
Jaafar hopes to be releasing his music in the new year or around January, according to what he's said in interviews.
The handsome young man already has a flock of fans excited about his debut, and most of them agree on the fact that he has the same sweet voice as his late uncle Michael, but assure him he should focus on his own journey and not worry about people comparing him to the King of Pop.
When asked about his future, he states:
"I see myself on a stadium world tour, winning awards, creating incredible music, traveling the world helping the less fortunate, being healthy and happy."
Please fill in your e-mail so we can share with you our top stories!