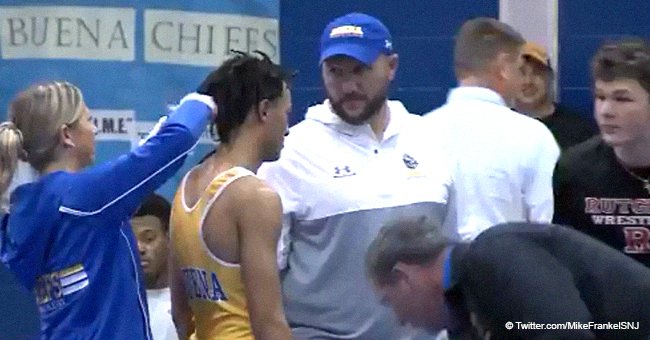 Referee forcing Black wrestler to cut his dreads or forfeit match sparks huge outrage
A referee is being accused of racism after he forced a Black wrestler to chop off his dreadlocks minutes before his match.
An unusual occurrence before a high school wrestling match sparked outrage directed towards its referee. Black contender Andrew Johnson was getting his dreadlocks cut upon the referee's instruction.
Johnson was about to face an opponent in a 120-lb division wrestling match representing Buena Vista Regional High School in New Jersey when referee Alan Maloney called his attention. Maloney reprimanded him for sporting dreadlocks and gave him an ultimatum: cut them off or forfeit the game.
Upset but forced to comply with Maloney's demand, Johnson chose to cut his hair despite intending to wear a cap over his head during the match. Maloney insisted it didn't matter. With or without a cap, the dreadlocks had to go.
Johnson went on to beat his opponent after the haircut but it was a victory that felt like a defeat. He was visibly upset despite raising his hands being raised for his win.
THE OUTRAGE
A video clip of the incident immediately went viral and sparked an outrage that has now led to an investigation. Many slammed Maloney for being racist.
"If this young man was my child, I would be so pissed off to find out that they cut off my sons hair, I can't believe they did this, this is so I'm human and so bad and racist."
"And even though he won, he probably didn't even feel anything. Its the loss of a man's dignity and it'll be those heartless individuals who'll tell men to "man up" I feel for this gentleman"
"Why did his coach allow it to happen? Why did the women cut them off? Why did the kid agree? And that Ref better be FIRED!!"
QUESTIONING MALONEY'S INTENTIONS
Based on the rules for high school sports in the US written by the National Federation of State High Schools, "braided hair that is non-abrasive" will only require a hair cover if it exceeds the allowable length. The question of why Maloney insisted Johnson cut his hair knowing the latter was complying with this rule became a bigger issue.
Even coaches during the event tried argued with Maloney regarding his ultimatum to Johnson but he contained this by starting the injury clock, prompting Johnson to abide by his rule.
THERE WAS A PRECEDENT
In light of the controversy surrounding this incident, reports surfaced of Maloney's previous racist-driven acts. In March 2016, he allegedly called a fellow referee the N-word during a gathering with officials. Maloney claimed the encounter which he had no recollection of occurred while he was under the influence of alcohol. In reparation, he offered to pay for and attend an alcohol awareness and sensitivity training program.
Meanwhile, the New Jersey State Interscholastic Athletic Association is conducting an investigation around Johnson's case. Maloney has been temporarily relieved from any referee duties until a decision has been made regarding this case.
ANOTHER ISSUE ON DREADLOCKS
This incident reminds us of a young boy who was turned away from his school on his first day because he was sporting dreadlocks. Clinton Stanley Jr. was accused of violating Florida Christian School's dress code when he showed up with the hair style on the first day of school. Despite Clinton's father arguing his case, the school stuck to its rule and denied his son's entry. Instead of cutting Clinton's hair, his father decided to move him to another school where he was visibly happier.
Please fill in your e-mail so we can share with you our top stories!