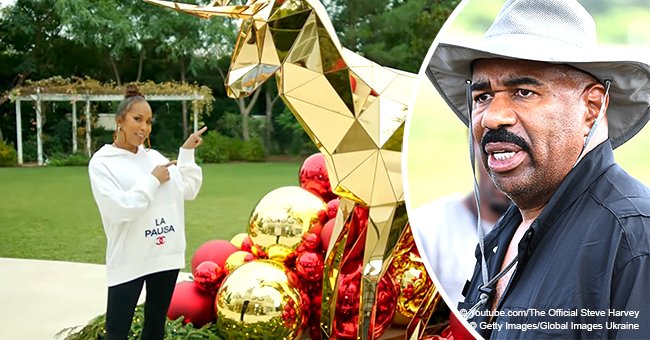 Marjorie Harvey reveals her winter Wonderland after Steve said she needed to chill on decorations
Marjorie Harvey, the wife of the host and comedian Steve Harvey, gave people a glimpse of her "Winter Wonderland" in a video posted to Steve's YouTube channel.
When the four-minute clip began, Marjorie appeared wearing black leggings and a white hoodie in front of the house showing the several trees surrounding the entrance while inviting the audience to get inside.
After saying that she loved baking and cooking for her family in Christmas, Marjorie showed their big and beautiful tree decorated with mostly white and blue. Apart from that, there were two human-size blue penguins that "keep an eye on things."
THE REST OF THE DECORATION
Later, the proud wife revealed three foods that Steve "absolutely has to have" during Christmas, including eggnog, fried oysters, and fried chicken gizzards. Marjorie was posing next to a fireplace adorned with golden ornaments while sharing that information.
She then showed a little tree decorated with some photos of their family placed in front of the bedrooms, as well as a little elf placed in her grandchildren's room who makes sure that everybody stays "on the nice list and not the naughty list."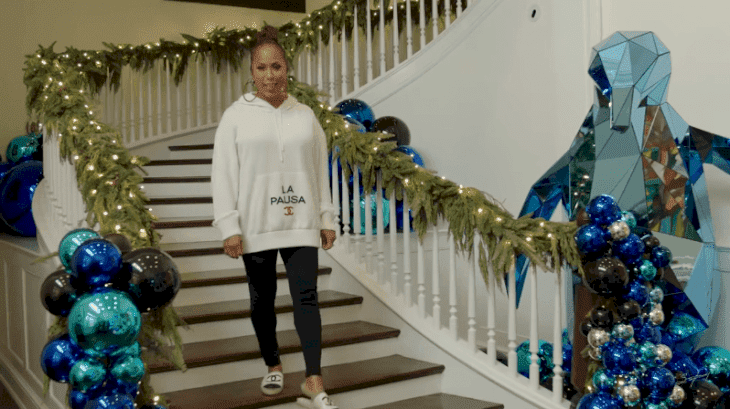 Source: YouTube/The Official Steve Harvey
DANCER AND PRANCER
The most striking part of the clip was the decoration in the backyard as the family got two golden reindeer named Dancer and Prancer (two of the eight reindeer that pull Santa's sleigh."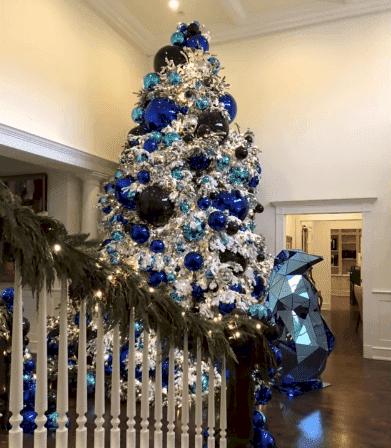 Source: YouTube/The Official Steve Harvey
Next to them, there were big red and golden ornaments that matched perfectly with the reindeer. Some other details that Marjorie shared about her Christmas are the music they listen to (The Temptations Christmas, Mariah Carrey) and the games they play (Taboo, Heads Up, and Uno).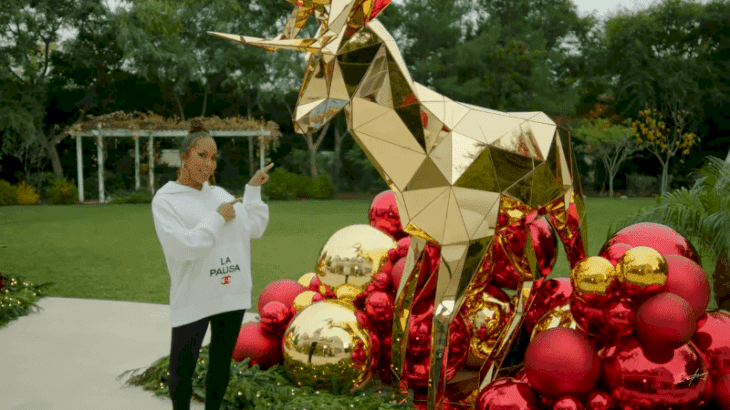 Source: YouTube/The Official Steve Harvey
STEVE'S THOUGHTS ON DECORATIONS
One of the most interesting aspects of the Harvey's Christmas decoration is that Steve recently appeared on the "Ellen DeGeneres Show" saying that he had to "talked [Marjorie] down a little bit."
"Marjorie has a rationale problem, and so I tried to get her to understand that we're not Staples Center," admitted Steve, who apparently couldn't stop Marjorie from adorning the house in such a big yet beautiful way.
NOT ENJOYING BEING A GRANDFATHER
During his conversation with Ellen, Steve talked about some other topics, including not enjoying being a grandfather that much and blaming Marjorie for it, too, as she keeps making things different by letting their grandchildren stay over.
According to Steve, his grandchildren are supposed to "come over, and then they go home." He admitted not liking babies if they are too young as "you got to put them two fingers back there, and then it slides off, and you feel responsible for them."
No matter what Steve said in the "Ellen DeGeneres Show," he has proved a couple of times that he loves his grandchildren and to being happy next to them, even if he doesn't like when they stay over.
Please fill in your e-mail so we can share with you our top stories!