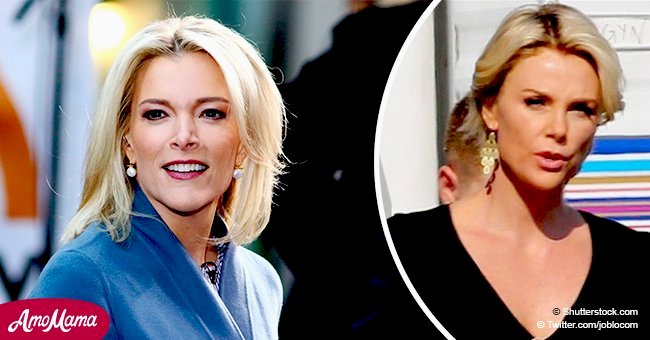 Charlize Theron is Megyn Kelly's spitting image, turning into controversial host for a new role
Hollywood superstar Charlize Theron was spotted in yet another stylish dress looking like journalist Megyn Kelly, whose character she is playing in her latest movie.
The 43-year-old actress was spotted in Los Angeles, California, shooting on the set of "Fair And Balanced," a movie based on the downfall of Roger Ailes.
Clad in a fitting white dress and nude heels, Theron looked a spitting image of Kelly with her blonde hair pulled back in a fashion reflecting that of the popular journalist.
Theron has been spotted a few times now taking up the avatar of the former NBC reporter, who was instrumental in ending the career of Ailes.
Follow us on Twitter to learn more.
The former CEO of Fox news was alleged of sexual misconduct for years with multiple women coming forward to open up about his inappropriate behavior. However, Ailes had continued to deny all claims.
Kelly's private testimony was then finally able to ensure Ailes' resignation, following which he died not a year later in 2017 at the age of 77 years.
The journalist also made headlines earlier this year in October because of her controversial 'blackface comments,' which also saw her segment on NBC's "Today" show get canceled.
During an interview with Extra, actress Theron was prompted to address the cancelation of Kelly's show and her controversial remarks.
Theron clarified during the quick chat that her movie was not about her NBC career and her controversial statement, but rather about her pivotal role in unmasking Ailes' sexual misconducts.
The actress also explained that the cancelation of Kelly's show happened on the second of the shooting of their film.
"I don't have the time right now, being an on-set producer and acting in this film and having two kids, to have any kind of perspective on it," Theron stressed in the interview, refusing to further comment on Kelly's statement.
Earlier in December, Theron was also spotted wearing a stunning red dress as she continued to portray the character of Kelly.
The knee-length dress with tan heels and gold hoop earrings were also a reminder of the journalist Kelly's iconic clothing.
Please fill in your e-mail so we can share with you our top stories!