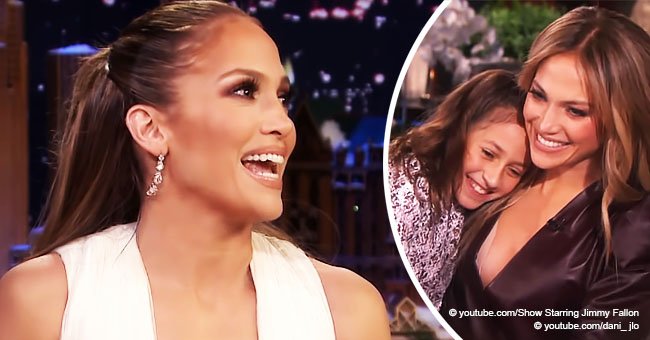 Jennifer López is still surprised that her daughter Emme has debuted as actress
Jennifer Lopez was with Jimmy Fallon in his show to talk about some aspects of her life, including her daughter's Emme debut in her mother's music video "Limitless."
While in "The Tonight Show Starring Jimmy Fallon," Jennifer talked about her performance at the VMA Awards, wherein her boyfriend, Alex Rodriguez, had a very funny yet adorable reaction to one part of it.
Jimmy enjoyed it so much that he showed a short clip of the event in which Alex appeared recording Jennifer, who was dancing to one of her songs, while "nerding out" on her.
TALKING ABOUT HER FAMILY
Later, the singer and actress pointed out that Alex has been very supportive during their relationship, pointing out that while there were people who "dull or squish you down," Alex was the complete opposite.
Jimmy then asked her about the first video she has directed, "Limitless," in which her daughter Emme appeared. The proud mother revealed that Sia wrote the song for her newest movie titled "Second Act."
ACTING IN "LIMITLESS"
When she talked about Emme's participation, her face light up in joy. Jennifer revealed that her daughter told her that she wanted to appear in the clip, but she kept saying no for a long time. Eventually, the singer accepted, and it was a wonderful decision.
"When I tell you, she was so amazing and I was so proud – I forgot that I was directing my first video. It was all about her. When you see the video, it's so empowering. [The video] talks about being limitless, having second acts. It's a beautiful message as well," revealed Jennifer.
Finally, she said that the movie "Second Act" also had a beautiful message and that it was what she enjoyed the most: inspire people while making them cry, laugh, or whatever the film is supposed to.
EMME'S UPCOMING BOOK
It is not the first time that Emme has done something quite surprising for a 10-year-old girl. In June this year, Jennifer informed her followers that she and her daughter were on their way to a business meeting with "book publishers."
She said: "We're excited - we have three meetings today. It's a very special day. Emme and I are off to our very first book publishers meeting for an idea Emme had for a book," which will be titled "Lord Help Me!"
Please fill in your e-mail so we can share with you our top stories!