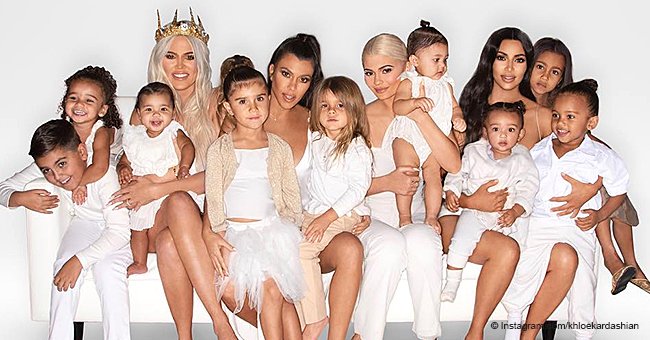 Kardashians reveal 'last-minute' Christmas card with their next generation
The Kardashians finally uploaded a Christmas card after waiting until "the last minute." Even though it is beautiful, some members of the family are missing.
Kim Kardashian was one of the members of the popular family who uploaded the photo. It showed most of the female members of the Kardashian/Jenner clan including Khloé. Kourtney, Kylie, and Kim.
All of them were sitting on a white couch while their children were around them posing for the photo and flashing their beautiful smiles. Unfortunately, the male members of the family, like Kanye West, Tristan Thompson, Travis Scott, and Rob Kardashian, were not present.
THE CAPTION
Apart from them, the momager Kris and their sister Kendall were also absent. For the caption, Kim revealed that they had to wait "until the last minute to do a card."
"Schedules we're changing, my husband was in and out of town. But The day of this card last minute realized we were all together so we had all of our kids come meet us," added Kim.
Apart from that, she revealed that both her mother and Kendall "rushed to a meeting" after the shoot, which was the reason they were not present. She admitted to being happy for having as many members of the family as possible and finished her message with: "From our family to yours Merry Christmas."
Kim's post on Instagram, which shows both how loving and big their family is, got 3.6 million likes in only eight hours. Khloé's on the other hand, got 4.1 million likes in the same amount of time.
DRAMA IN THE FAMILY
This year's Christmas card was somehow surprising as it was thought that they would break their tradition due to family drama. A Twitter user wrote: "I feel like with the drama that happened last year, we may not get a Kardashian Christmas card this year. I'll be cool with a West family one tho!" Kim replied to it saying "Wow reading my mind."
Things like Tristan's cheating scandal, Scott Disick's relationship with his new girlfriend, Sofia Richie, and Kanye's political statements were a few of the reasons people thought this year's Christmas card would never happen. Thankfully, they managed to solve things, and the photo is just beautiful.
Please fill in your e-mail so we can share with you our top stories!