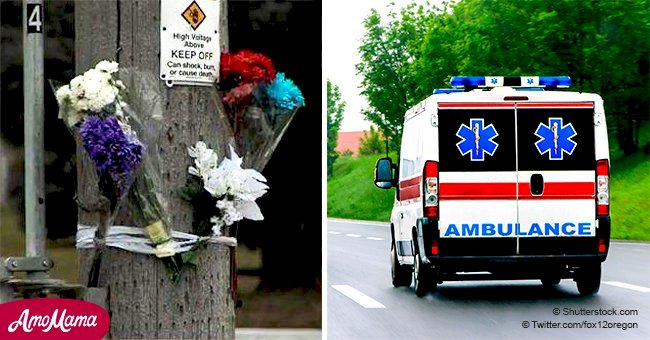 Man dies hours after being turned away from hospital: 'no rooms available'
A 46-year-old man by the name Spendi Rusitovski died just hours after being rejected from a hospital; some think his death was not a coincidence.
The Oak Creek police are now investigating the case of a man who died at the back of an ambulance after his wife told them he was denied care at Franklin hospital.
Follow us on our Twitter account @amomama_usa to learn more.
The victim, who died on Monday night, was involved in an accident on his way home – he swerved into a ditch and crashed. The unfortunate accident took place on South 13th street; few blocks from Spendi's home.
"I noticed the lights were coming more towards me, and I had swerved, and I saw him go down the ditch and hit the pole," - Ashley Spitza, an onlooker said.
Spendi complained of chest pains to the police upon their arrival at the scene, but was at the time strong enough to even help himself out of the ditch.
A few minutes later, however, his case became more severe, and sadly, he lost consciousness and later died in the back of an ambulance.
The coroner who examined his body confirmed that the aftermath of the crash didn't kill Rusitovski; it was indeed something else that led to his untimely demise. The report further stated that the deceased had been to Ascension SE Wisconsin Hospital, Franklin campus earlier that day to make complaints about "chest pain."
After his examination, the doctor was going to admit him but decided against it due to lack of bed space; he was told to go home and wait for them to call him when there is an available bed. Unfortunately for the 46-year-old, he didn't have that long as he died just hours after his checkup.
The hospital spokesperson was asked by WISN 12 News to comment on why the hospital turned Mr. Rusitovski away but instead she said:
"Out of respect for each individual's right to privacy and to comply with applicable state and federal laws, Ascension Wisconsin is unable to comment."
This is not the first time hospitals will be turning down patients for lack of room; thereby worsening their cases or even leading to their death. Prince Anthony Opoku Acheampong 70, died earlier this year after he was turned away by Lekma hospital in Accra, Ghana.
Hopefully, hospitals will find a better way to care for more patients without having to send them back home. This will reduce the number of unnecessary deaths
Please fill in your e-mail so we can share with you our top stories!