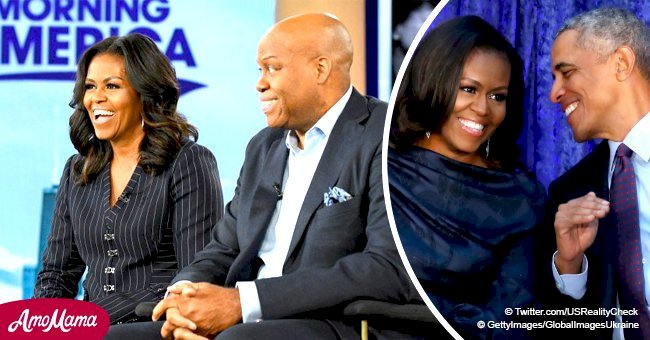 Michelle Obama recalls how her brother 'approved' her marriage to Barack

Michelle Obama has something in common with a lot of us: She has a protective older brother. That means the former president had to go through him to get to her.
Craig Robinson is a success in his own right. He is the Knicks' vice president of player development. That means after president Steve Mills and general manager Scott Perry, his word has power.
When it came to his baby sister though, Robinson wasn't paid to be the loving, protective brother to Michelle that he was. The pair has a two-year difference between them.
Follow us on Twitter for more @amomama.
So as they grew up in the South Side of Chicago together, they were playmates. In an interview with the NY Post, Robinson said: "She got to do everything I got to do. We were friends and playmates growing up."
The former first lady spoke of her nurturing big brother in her memoir "Becoming Michelle Obama." She wrote: "I'd spend a lifetime admiring him for his ease."
When Robinson got into basketball, Michelle would attend several games at Princeton for his sake. She still admired him, but the repetitive games dampened her excitement of the game.
Robinson explained:
"She had grown not to like it because she got dragged to so many different basketball games. She never played. Part of the reason she didn't play, it wasn't the same attention paid to women's basketball. She could've been a really good player."
Still, there was a useful part of Robinson's love for basketball that would benefit Michelle in a big way. He could judge a man by how he played the game.
Michelle wrote in her book:
"Craig's opinion of Barack mattered to me and my brother knew how to read people, especially in the context of a game."
So when Michelle and Barack's relationship was still in the budding stages, the Princeton graduate asked her brother to do her a favor.
Robinson explained:
"She always heard my dad and I say, 'You can always tell a person's character by how they play pickup basketball.' When she started getting serious with him, she said, 'Hey, could you take him to play with the guys you play with?' She said, 'I'd really love to hear your input on this.' "
Michelle recalled that her brother determined Barack was "no ball hog, but he's got guts."
Robinson gave his evaluation:
"I realized he wasn't selfish. He wasn't greedy. He showed character on the court. He called fouls and gave up fouls. You have to trust the guys you're playing with in pickup, they'll make the right call. He did all of that. I was able to get back to her and say, 'He seems like a pretty good guy.' The best thing about it I told her is he didn't just pass me the ball because he was dating my sister."
Robinson determined that he didn't quite secure the inevitable marriage between the future president and Michelle.
However, he admitted:
"I don't think I clinched it, but I moved it in the right direction. I might've been able to derail it, but they had to clinch it."
Both Robinson and the sibling's father were doubtful of the relationship. Simply because Michelle tended to move out of relationships fairly quickly.
When the time came, Robinson walked his sister down the aisle as their father had passed. He's still in awe, and proud, of how far she's come since then.
Like any marriage, though, the first African American couple in the White House went through their trials. Michelle sat down with Jimmy Fallon on the "Tonight Show" to talk about that.
She said:
"I was one of those wives who thought, 'I'm taking you to marriage counseling so you can be fixed, Barack Obama.' Because I was like, 'I'm perfect.' I was like, 'Dr. X, please fix him.' And then, our counselor looked over at me. I was like, 'What are you looking at? I'm perfect.'"
The first lady explained that her perception soon changed. She learned that she also had a long way to go. One thing she had to do was "put [herself] higher on [her] priority list."
Michelle left the show with important words for younger ones. She said she "wants young people to know that marriage is work, even the best marriages require work."
More insight into the counseling that Michelle and Barack went through is found in her book. It's the second book she's released and has already captured the title for bestselling nonfiction of 2018.
Please fill in your e-mail so we can share with you our top stories!