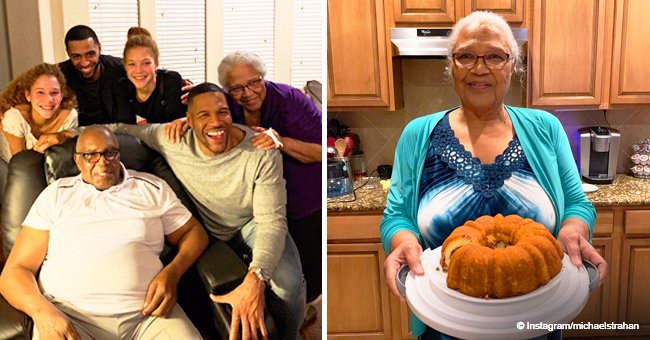 '#Mama's boy' Michael Strahan melts hearts with heartwarming holiday photos of his kids & parents
Michael Strahan, one of the anchors of "Good Morning America," took to Instagram to share photos having a great time next to his children and parents.
For the group pic, Michael appeared wearing blue jeans and a long-sleeved grey shirt while flashing his infectious smile to the camera. He was between his mother Louise and his father Gene.
The former NFL player's children, Michael Jr. and the twins Sophia and Isabella, were posing also smiling at the camera a few steps behind them. Michael's eldest daughter, Tanita, was nowhere to be seen.
For the caption, he wrote that there was nothing better than laughing and having fun with the family. Later, Michael explained that Tanita was not present because she was in Los Angeles "working hard."
"MAMA'S BOY"
That was not the only picture Michael has uploaded showing a member of her family, though. The "GMA" anchor recently shared a photo of Louise posing to the camera while holding a delicious-looking cake.
In the caption, Michael set clear that it was one of the perks of the holydays: "Moms sock it to me cake and home cooking! Is there anything better? NOPE!" adding the hashtag "Mama's Boy."
Michael has four children so far, Tanita, Michael Jr., Sophia, and Isabella. The first two children were born during his marriage to Wanda Hutchins. In 1996, the couple got divorced after being together for only four years. After that, Michael married Jean Muggli in 1999. About five years later, the couple welcomed the twins. Unfortunately, Jean and Michael parted ways in 2006.
THANKSGIVING REUNION
For Thanksgiving, the family got together again. Michael, his four children, and Dorian, who the "GMA" host considers his son, were posing for the camera while sharing beautiful family time.
In the caption, Michael revealed to being "especially thankful" for his "amazing kids." He added, "Today I'm taking a moment to reflect back. So I ask you, what are you thankful for? Happy Thanksgiving!"
ADVICE ON TWINS
Back in June 2017, the "GMA" host revealed that while being a parent was full of joyful moments, it also has stressful ones.
Later, he shared a piece of advice to those who have twin babies, admitting that it is hard at first. Thankfully, children start taking care of themselves as they grow old.
"They will be each other's best friend, and you'll think to yourself, 'Where did the time go?' I'm blown away by how fast it goes," finished Michael.
Please fill in your e-mail so we can share with you our top stories!