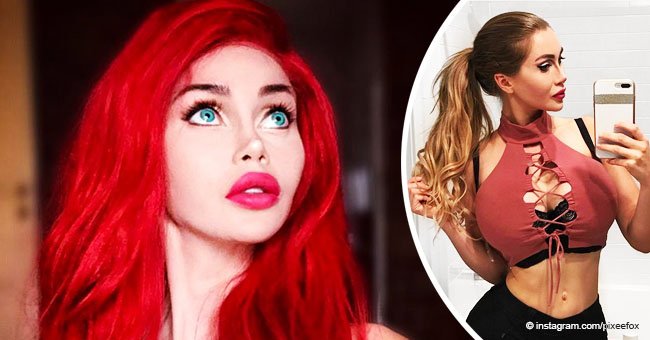 28-year-old woman had eyelash transplant using hair from her crotch in quest to look like a cartoon
Pixee Fox has spent the last seven years of her life going under the knife with more than 200 surgeries to achieve her desired goal: to look like a cartoon. She put her life at risk with a rare face surgery and went as far as to implant pubic hair on her face.
The 28-year-old Swedish woman has been featured on E! Entertainment plastic surgery show "Botched" on several occasions. However, on her latest appearance, Drs. Paul Nassif and Terry Dubrow refused to realign her hair-line, stating that it is in the right place.
Nassif and Dubrow have denied Pixee other surgeries before, as they believe she's a plastic surgery addict with body dysmorphia. However, Fox says she's proud of what she has accomplished with her look, earning an entirely new face and body with over 200 surgeries performed all around the world.
PUBIC HAIR EYELASH TRANSPLANT
Fox, a former electrician, had 20 procedures done since the last time she visited the doctors, and the two most shocking were a pubic hair eyelash transplant and a vagina reconstruction. She explained that, since she doesn't have dark hair anywhere else, she had to sue pubic hair for her eyelashes, and is the first woman ever to do it.
"Pubic hair eyelash transplant, That's a new one. Do you still have to curl them?" Dr. Dubrow joked.
Pixee also stated that her vagina now looks like a "baby flower," and went to recount she had a nose job for a fairy look and ha her ears sown to look like an elf.
"I used to be more of a tomboy. I used to be an electrician — I used to only do guy stuff — and now I'm transforming myself from a normal girl to a living cartoon," she said. "I never really felt human; I always felt more like a pixie, fantasy creature."
Fox also had four breast enhancements, brow lifts, liposuction, labiaplasty, and a bum lift. She also traveled all the way to India to have her eye color changed and had six of her ribs removed to achieve a cartoon-like slim waist.
PUTTING HER LIFE AT RISK
Last year she traveled to South Korea to get a dangerous face-breaking surgery that could have left her paralyzed to achieve a more pointy jawline and have a more symmetric face structure. On the dangerous procedure, doctors had to break, shave and reset her jaw bone to get her desired shape.
Pixee explained:
"'I wanted to do the V-line and bone surgery to achieve a more symmetric and have a jawline that looked more like a super-hero. The jaw surgery will make my face look smaller which will make my eyes appear bigger. It was a risky surgery, so surgeons had to be especially careful with that as there were a lot of muscles and nerves in the face."
THE 'HOOK' OF PLASTIC SURGERIES
Pixee had her first surgery in 2011, and in her words, she got "hooked." For the woman, who is now a celebrity on her own accord, going under the knife gives her the chance to go into an adventure by creating her body and face with her imagination.
"It was so exciting, and I just continued because I knew this was my way and what I was supposed to do. The surgeries have helped me over the years to love myself for the person I really am," she concluded.
ANOTHER 28-YEAR-OLD OBSESSED WITH PLASTIC SURGERY
Aviva Rocks, also known as "bimbo girl" has spent thousands of dollars on plastic surgery trying to achieve her ultimate plastic look.
Her surgeries up to date include three boob jobs, two nose jobs, countless Botox injections, hyaluronic fillers, and a facelift, but she is far from done. She's planning for a rib removal surgery, a fourth breast enlargement, a third nose job, liposuction, and a Brazillian butt lift.
Rocks, who is currently living in Spain, earns about $650 per day working as an adult performer, and she says she foregoes vacations and expensive clothes in order to save money for more cosmetic surgeries in her goal to look "more plastic."
Please fill in your e-mail so we can share with you our top stories!