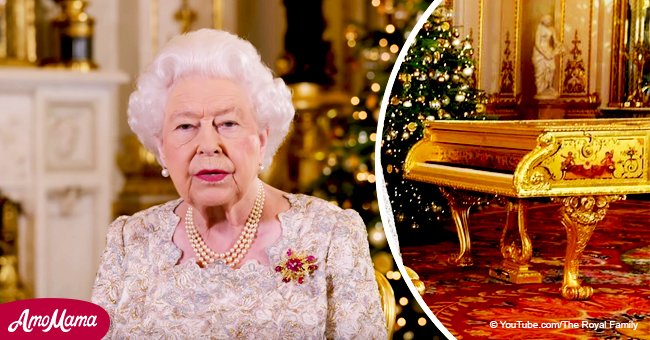 Queen faces backlash over gold piano spotted by eagle-eyed fans during her Christmas speech

Queen Victoria's old gold piano stirs up Queen Elizabeth's subjects.
Every year of her long reign - 66 years - Queen Elizabeth has continued the tradition started by her grandfather King George V in 1932 when he made history by addressing the Nation and the Commonwealth on the radio for the first time.
This year's speech, broadcast on TV on Christmas Day was no different from the last 65, but it sparked off a spate of indignant protests by angry viewers, reported The Mirror.
"I don't understand the criticism old Mrs. Windsor is getting over her gold piano while she lectures her subjects. It's a fairly standard piece of furniture. I keep mine next to my diamond encrusted microwave."
SPEAKING OF AUSTERITY IN A LUXURIOUS SETTING
What angered the viewers was not so much what the Queen said, as where she said it.
The speech was recorded in the White Drawing Room at Buckingham Palace in front of a golden piano, and it was that symbol of gilded opulence that seems to have been the trigger for the controversy.
The Royal Family's combined net worth including real estate, art and jewelry collections is thought to be around $88 billion.
SOCIAL MEDIA BOILS WITH CRITICISM
Comments range from mild disapproval to full-blown rants at what was considered the Queen's insensitivity at speaking of austerity while seated in the literal lap of luxury and in front of a gilded piano that once belonged to Queen Victoria.
"Child poverty is at a modern high and Old Queen Lizzy is telling us all to stick together with her big gold piano and £365 million loft conversion paid by her struggling people."
Another comment pointed out that child poverty is at an all-time high since WWII, and that the setting for the wealthy Queen's speech was inappropriate, to say the least.

Source: Twitter/Daily Mirror
THE QUEEN'S NET WORTH
Queen Elizabeth II's personal net worth was calculated by Forbes to be around $500 million, which might be considered modest by billionaire standards and is almost half of Kylie Jenner's.
However, the Royal Family's combined net worth including real estate, art and jewelry collections is thought to be around $88 billion.

Source: Twitter/Daily Mirror
THE MALIGNED GOLD PIANO
To be fair, the maligned gold piano is not a personal extravagance - of which the notoriously frugal Queen cannot be accused. The gilded and lavishly painted gold piano belonged to Queen Victoria and was made in 1856 by Erard.
Queen Victoria and her consort Prince Albert were enthusiastic musicians and had a piano installed in each of their residences - which Queen Elizabeth inherited.
Read more on Twitter Amomam USA.
THE QUEEN'S SPEECH AND THE ROYAL BABIES
Like any doting grandmother and great-grandmother, Her Majesty's speech touched on her happiness at the Royal Weddings of two of her grandchildren, and the birth of two great-grandchildren during 2018, Prince Louis and Lena Tindall.
"It's been a busy year for my family, with two weddings and two babies, and another child expected soon. It helps to keep a grandmother well occupied."
The first wedding was Prince Harry's to Meghan Markle on May 19, 2018, and the second was Princess Eugenie's lovely Fall wedding to Jack Brooksbank in October.
The Queen also spoke of the forthcoming birth of yet another great-grandchild in the Spring 2019 - the eagerly awaited offspring of Prince Harry and Duchess Meghan's.
Please fill in your e-mail so we can share with you our top stories!