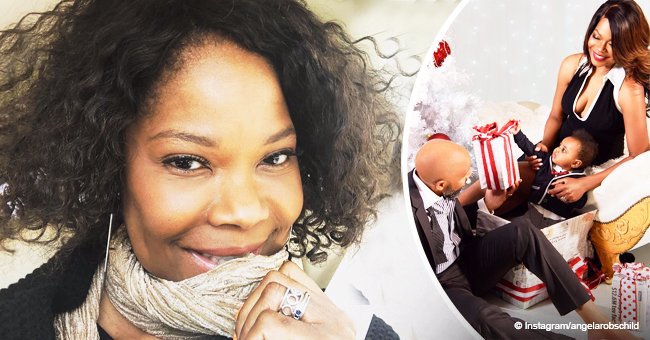 Angela Robinson posts first Christmas photo with her husband of 22 years and their baby
Angela Robinson, the actress known for "The Haves and the Have Nots," took to Instagram to share the first Christmas photo next to her husband, Scott, and their son, Robbie.
In the image, Angela appeared wearing a beautiful, sleeveless, black dress with white details while holding baby Robbie who was popping out of a box by the Christmas tree just as if he was a gift.
Right in front of the baby, Scott, who has been married to the actress for 22 years, was holding a little present. Both Scott and Robbie put on suits that made them look very handsome.
PEOPLE'S REACTION
For the caption, Angela wrote: "Merry Christmas!!" adding the hashtags "Robbie's First Christmas" and "Love." As soon as she uploaded that image, her followers took to the comment section to share their thoughts.
"Awwww how precious!!! Merry Christmas to you & your gorgeous family!" wrote one user.
"Awww so beautiful! Merry Christmas to all of you. Next year you'll need security guards for the tree," pointed out a second follower, suggesting that Robbie would pull the decoration off the tree.
SCOTT'S BIRTHDAY
December 24 was definitely an important date for Angela's family as it was also Scott's birthday. To commemorate such a milestone, the actress uploaded a collage showing her husband in different poses. In the caption, she described him as the best man she knows.
"You love your family. You loved and believed for our baby long before he was born. You give hours and hours to your students. Thank you for all you do for us. May this day and the coming year be filled with more dreams realized, memories made, and lots and lots of laughter. You make us happy," added Angela.
ROBBIE'S DEDICATION DAY
It is not the first time that Robbie melted the hearts of his mother's followers. Earlier this month, the actress uploaded a sweet photo on Instagram to celebrate the boy's Dedication Day.
In the caption, Angela thanked "everyone who made Robbie's Dedication Sunday so special." She also thanked the chef, only known as Mamie, "for not only finger licking good food but your overall love and care of our event."
THE BABY'S ADOPTION
Even though the actress and her husband have been together for more than two decades, they had not welcomed any child until they finally adopted Robbie, who joined their family on Father's Day 2018.
To share their excitement with her followers, Angela posted a photo that portrayed her holding the baby. Even though Robbie's face was not visible, the post attracted a lot of attention.
Please fill in your e-mail so we can share with you our top stories!