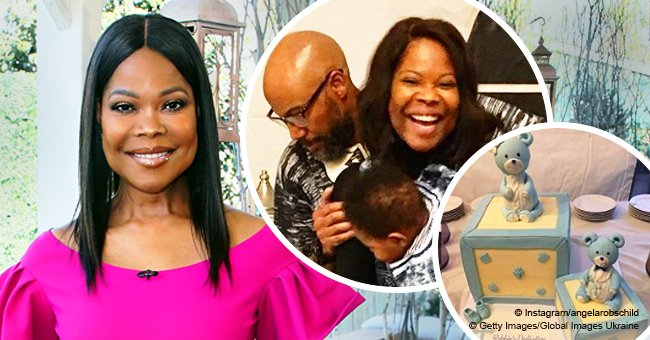 Angela Robinson posts sweet photo with husband of 22 yrs & their baby son on his dedication day
Angela Robinson, the actress best known for "The Haves and the Have Nots," took to Instagram to share a photo of her husband, Scott Whitehurst, and their son on his Dedication Day.
The post was a collage of three images. The biggest one portrayed Angela holding the baby, Robinson Scott, also known as Robbie, while flashing her beautiful and infectious smile at the camera.
Scott was behind his wife looking down at the table as if he couldn't wait to eat. The two smaller pics next to that one showed two beautiful blue and white cakes that had two bears on it, and the chef who worked during the event.
In the caption, Angela thanked "everyone who made Robbie's Dedication Sunday so special." She also thanked the chef, only known as Mamie, "for not only finger licking good food but your overall love and care of our event."
As soon as the actress uploaded that image, her followers took to the comment section to share their thoughts. Most of them congratulated the family on such a special milestone, while others pointed out that Angela looked amazing as a mother.
ADOPTING ROBBIE
Even though the actress and her husband have been together for more than two decades, they had not welcomed any child until they finally adopted Robbie, who joined their family on Father's Day 2018.
To celebrate the adoption and to let her followers know that there was a new member in their family, Angela posted a photo that portrayed her holding the baby. Even though Robbie's face was not visible, the post attracted a lot of attention.
It showed Angela holding and looking down at him while sharing a delighted smile. Scott was caressing his foot with a happy expression, too. "Meet our son Robinson Scott aka Robbie. Adoption has gifted us beyond measure. Wishing my husband the Happiest FIRST Father's Day Ever," wrote the actress in the caption.
TAKING HER ROLE TOO SERIOUSLY
Angela, who plays a villain in "The Haves and the Have Nots," revealed during an interview with the Tallahassee Democrat that a fan of the show took her role too seriously a couple of years ago.
"This lady just came up to me and slapped me in the back and said, 'You just going to have to do better.' I was like, 'With what?' 'With your child, and I said, 'I don't have any children.' I think because of the huge success of reality TV people think they're real people. It's scripted," said the actress.
At the moment, Angela is focused on her career and on raising her baby boy in the best possible way next to her loving husband.
Please fill in your e-mail so we can share with you our top stories!