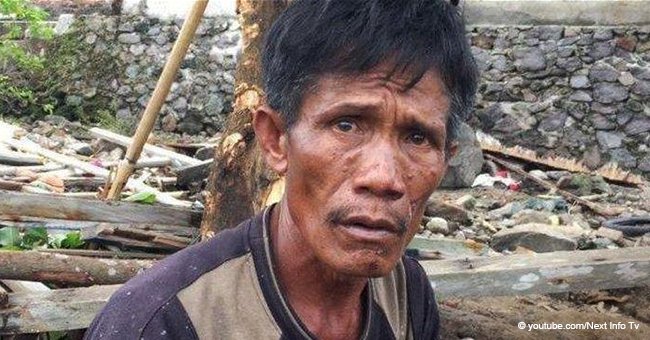 Devastated father had to choose between saving his wife, baby, or mother from drowning
The volcano-triggered tsunami that hit Indonesia on December 22 has left at least 430 people killed. Udin Ahok is a survivor, but he had to make a tough choice.
Ahok, 46, was in his bedroom in the village of Way Muli, on the coast of Sumatra when the huge wave hit the area without warning. The man lived with his 70-year-old mother, one-year-old son, and his wife.
The first thing that crossed Ahok's mind was to save his toddler and mother who were in a different room, so he did his best to reach them. Before doing so, he saw his wife about to drown in the water.
HE COULD ONLY SAVE HIS WIFE
Without hesitation, he helped his wife but couldn't do the same with the rest of his family. When the devastating chaos stopped, Ahok's mother and son were found dead under debris.
In tears, the man talked to Agence France Press from a local shelter for evacuees admitting that he didn't have enough time to save his entire family. "I regret it so much. I can only hope they've been given a place in God's hands," finished Ahok.
THE CASUALTIES
As IOL reported, the number of casualties that the tsunami has left behind reached 430, but it is very likely to keep increasing. Official data states that there are at least 159 people still missing, 1,495 people injured, and almost 22,000 people displaced.
The huge wave that has caused such chaos was caused by undersea landslides in the Sunda Strait after the Anak Krakatau volcano erupted. Indonesian climate and geophysics agency has advised people to stay awat from coastal areas in Lampung and Banten.
One of the reasons why the tsunami was so destructive was that Indonesia does not have the system to detect such disasters triggered by undersea landslides and volcanic eruptions.
THE WAVE DURING THE CONCERT
Among all the images and videos depicting the destruction, one of the most striking ones shows the massive wave violently crashing the stage were a band named Seventeen was performing, killing four members.
The clip, which showed that the water swept everything away, has taken social media by storm and it is a graphic representation of how violent the tsunami was. The four members were identified as M. Awal Purbani, the band's bassist, Oki Wijaya, road manager, Herman Sikumban, the guitarist, and Ujang, a member of the crew.
Please fill in your e-mail so we can share with you our top stories!